Orvis Hot Springs is a natural hot spring resort. It features a spa, gardens, and multiple steamy pools in the City of Ridgway in the State of Colorado. This is a popular hot spring here in Colorado and is frequently visited by many tourists every year. Soaking in these steamy hot spring pools and witnessing the stunning San Juan Mountain Ranges in the distance is an experience you can never forget.
The Orvis Hot Springs
The Orvis Hot Springs was first discovered by the Tabeguache Indians. They are popularly known as "People of Sun Mountain" thousands of years ago. The Hot Springs are considered sacred by these indigenous tribes. They used these mineral-rich hot springs for cleansing, warmth, and healing. It is believed the mineral-rich hot springs can cure severe diseases like Rheumatoid Arthritis.
Later, in the 1900s the site was bought by a private owner who built a commercial hot spring facility here.
This Natural Hot Spring facility contains a large pool house consisting of an indoor pool with a waterfall, and the walls are covered with artistic murals; two private hot tubs, Spa Services, Lodge, and Camping sites. Do take a look at the Orvis hot springs photos to gain a visual insight into the facility. The Facility also contains gardens all around the pools, offering privacy and pleasant experiences.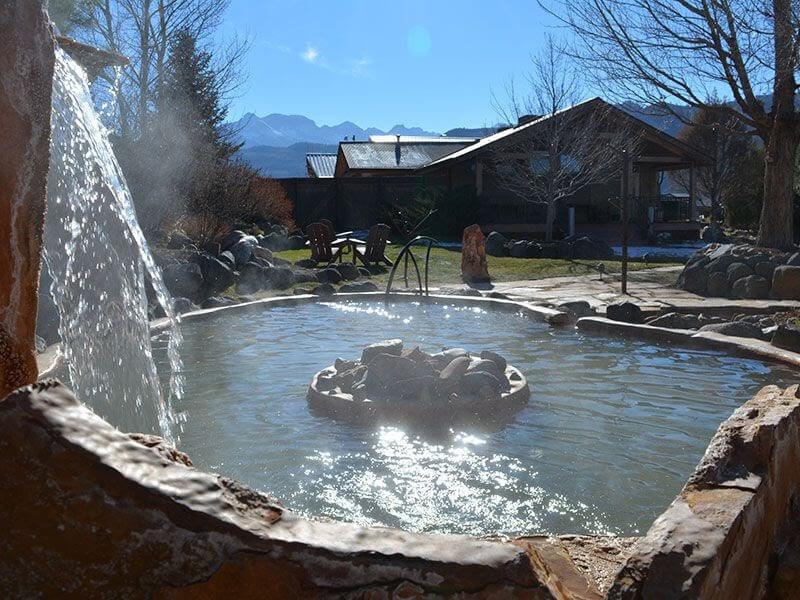 The facility has a community kitchen where you can cook your food. Clothing is optional here, and there is a high chance of seeing naked people soaking in these steamy pools. Alcohol is strictly prohibited here in this resort. The Facility is surrounded by many popular camping sites. They offer essential amenities and Magnificent views of the San Juan Mountain Ranges and the surrounding forests. Apart from this, the facility has a camping site. You can set up your camps or Park your Vans, Trailers, RV's, and other camping vehicles.
Location of Orvis Hot Springs
The Orvis hot springs are near the City of Ridgway south of the popular Ridgway State Park which is 5.7 miles from the Hot Springs. The Orvis Hot Springs are also surrounded by Log hill Village, Portland Town, and Eldredge Town. The Hot Springs is easily accessible from the Popular Colorado City of Grand Junction. It sits at a distance of 87.9 miles from the Hot Springs Resort.
From Grand Junction, follow I-70 State Highway for 1 mile towards the east. Take a right on the 29th Road Ramp and Drive onto the road and head straight for 4 miles. Now take a right turn and enter the US 50 State Highway and head straight for 55.7 miles towards the town of Montrose. Once you reach Montrose Town head south towards the US 550 State Highway. Drive onto the highway and follow the road for 27.5 miles. Keep a Lookout for Colorado road 3 on the right. Drive into this road which will lead you to the Orvis Hot Springs Spa, Gardens, and Resort on the right side.
Orvis Hot Springs Hours
The Orvis Hot Springs Resort is open all year long from 9 am to 10 pm every day. During summer, the temperatures here in the State of Colorado can be very extreme. It is best to not visit during this time. While in winter, the Hot Springs are overcrowded as it is a popular winter getaway. It is highly recommended to visit these Hot Springs during Fall and Spring. During these times the hot springs are less crowded. You can enjoy soaking in these steamy pools and encounter the stunning vistas of the Mountain ranges and the forests adorning orange color during this time of the year.
More About Orvis Hot Springs Resort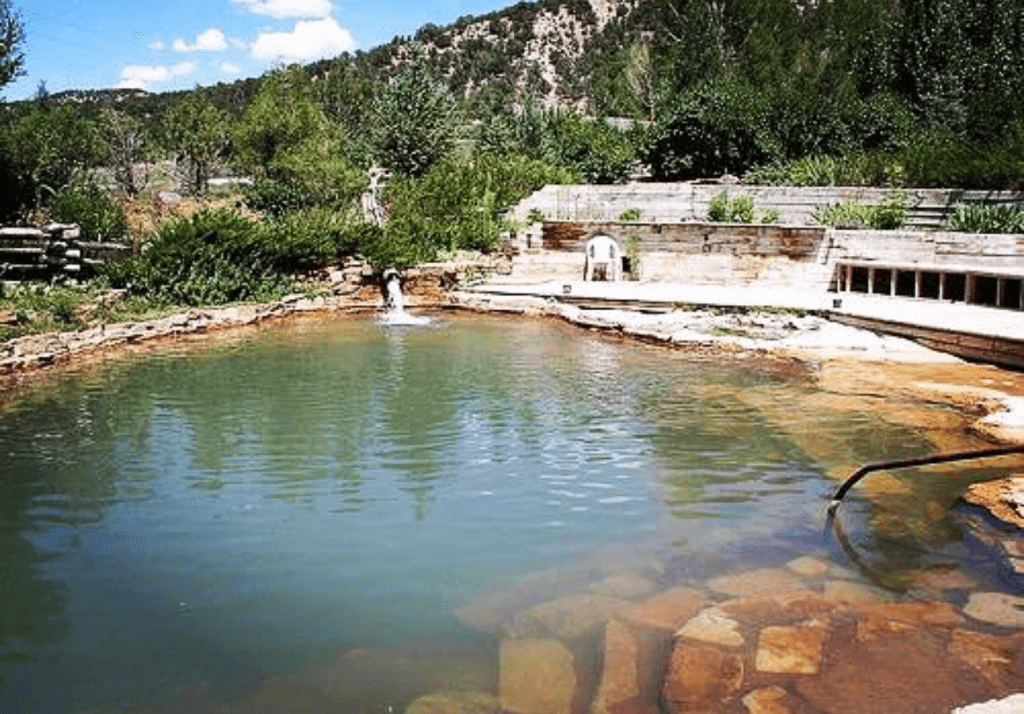 The Hot Springs consists of multiple outdoor and indoor steamy pools. It has hot tubs and a unique large cave pool for you to choose from. The Cave pool and three other pools are fed by steamy water. Especially from the source below the cave pool, which is at a temperature of 127 Degrees Fahrenheit. These steamy pools vary in the temperature of the water, depth, and size.
The "Pond" or "Cave Pool" is the largest pool in the facility, which is 40 feet long and has a depth of 5 feet. The second largest is "Island Pool" which is 8 feet long and has a depth of 2 feet. The third one is called "Smoker's Pond" and it is 8 feet in length. The Fourth pool is an indoor pool. It has mural painted walls known as "Lobster Pot" and the temperature in this indoor pool is slightly a bit higher than the outdoor pools.
Apart from this, the steamy water of the Hot Springs has a high concentration of Lithium Minerals. It has many medicinal properties like neurogenesis. What this means is that it promotes the formation of new brain cells. It protects against neurodegenerative diseases like brain injury and depression and also has calming effects. Due to which many people visit these hot springs every year. Those who suffer from high stress, depression, and other neurological disorders visit these lithium-rich pools.
Natural Attractions Near Orvis Hot Springs
The Orvis Hot Springs near the City of Ridgway has many natural attractions nearby for you to visit. The many hidden natural wonders here will make your trip worthwhile.
Ridgway State Park
Ridgway State Park is one of the most popular getaways here. It is near the foothills of the stunning San Juan Mountain Range. The Park is a nature reserve that is established to conserve & protect. Especially the many natural hidden wonders and wild animals that call this park their home. The Park has multiple entries, each one offering unique views of the park and various interesting activities to participate in.
The State Park is 4 miles from the City of Ridgway near the Orvis Hot Springs. It has been a popular camping site for all the tourists visiting the Hot Springs. The Park has multiple popular campgrounds sharing alluring scenery all around and boasts several essential amenities. The State Park is highly known for its diverse landscapes, it has the mighty Uncompahgre River snaking through the park, multiple blue lakes full of life and magnificent views, hidden waterfalls, Natural Hot Springs, Tall Mountain peaks of San Juan Range, and many more.
Ridgway Reservoir
The Ridgway Reservoir is a popular site near the Orvis Hot Springs in the famed Ridgway State Park. The Man-made lake was formed as a result of the construction of a Large Dam on the mighty Uncompahgre River, which is mostly used to store the Flood Water and to supply water to many irrigation fields nearby. The Blue lake is a major hotspot for various species of fish like Rainbow Trout, Kokanee Salmon, Trophy Brown Trout, Splake, and many more. Due to this, fishing in this reservoir is a popular activity for tourists visiting. Apart from fishing, the reservoir also has scenic boat tours which will lead you to the Large Dam and the mighty river. The banks of the lake also have different types of Hiking Trails and also many campsites offering gorgeous views and sites for setting up your camps or parking your RV's, Vans, etc.
Uncompahgre River
The mighty river flowing through the Ridgway State Park is also a popular natural attraction nearby the Orvis Hot Springs. The River originates in the San Juan Mountain Range and is 75 miles long and it is one of the tributaries of the Widely known Gunnison River. The Uncompahgre River was named by the Ute people one of the many indigenous tribes of the great basin, and its name means "Red Lake" or "Dirty Water" due to the river's unique red or yellow color.
The River is a popular hot spot for tourists as it offers many activities such as Kayaking, Tubing, Paddle Boarding, Canoeing, and Tubing. The river is also home to many species of fish like Rainbow Trout, Cutthroat Trout, Brown Trout, Cut bow Trout, kokanee Salmon and many more. Due to the large variety of trout fish living here, the Uncompahgre River is a popular destination for Trout Fishing here in Colorado.
Activities to Do Near Orvis Hot Springs
There are many unique and interesting activities here, you can take part in during your trip.
Balloon Adventures
Have you ever thought of flying high in the sky and witnessing the beautiful mountain ranges surrounding the Ridgway Valley Below? Well, you came to the right place. The San Juan Balloon Adventures near the Orvis Hot Springs offer scenic balloon tours for you to take part in. The Facility near the Towns of Telluride, Ouray, and Ridgway offers Hot Balloon adventures with unforgettable views of snow-capped mountains of the San Juan Mountain range and the pristine valley with many hidden natural attractions below.
Off-Road Adventures
The surrounding state park and the mountain ranges of the city of Ridgway have many popular off-road trails offering Adrenaline Pumping off-road adventures. There are multiple off-road trails here, for you to choose from based on your skills. There are also many off-road rental vehicles facilities nearby, offering different types of Off-Road vehicles for affordable rental rates. The facilities also provide certified guides for these off-road adventures to help you learn offroading tricks and safety precautions. The Off-Road Trails also offer spectacular views of the San Juan Mountain ranges and the surrounding valley.
Geocaching
Geocaching is a modern type of treasure hunting that many people love to participate in here in the many State Parks and National Forests of Colorado. It is an adventurous game of hiding small treasures or hunting for these hidden treasures. Many tourists visiting this Orvis Hot Springs near Ridgway participate in this adventurous treasure hunting known as Geocaching. This Adventurous treasure hunting game involves storing small gifts in Cache boxes or hunting these Cache boxes located all over the park for treasures whose details are logged into a record book attached with accurate GPS of the Cache boxes.
Gold Panning
Gold Panning is a low-risk sport of finding gold in the many beautiful creeks and other water bodies in the many state parks of Colorado. Ridgway State Park located nearby the Orvis Hot Springs is one such site, which is ideal for you to find gold particles in the water bodies. The adventure sport although it requires some expensive gear and learning many essential techniques, it's worth it. Also, many facilities here offer rental equipment for your Gold Panning for budget-friendly prices. You can participate in this activity alone or with your whole family, however, this strenuous activity requires a lot of patience.
It is strictly advised not to take large gold rocks back with you, as the sites and their gold deposits are the State park's property.
White Water Rafting
The Uncompahgre River as said above is a popular destination for rafters coming all across from the country. The raging river with its sudden turns and rough currents is a perfect site for the adventurous white water rafting sport. River rafting is also popular among locals, as a result, there are many facilities here providing adventurous rafting tours, rental rafting safety gears for affordable rates. They also provide a certified rafter during your tour to guide and help you through this Adrenaline filled sport. The Rafting tours can be more joyful if you can participate in large groups.
Hiking Trails Near Orvis Hot Springs Ridgway Colorado
Hiking is also a widely known tourist activity here in Ridgway due to a large number of Hiking trails in the surrounding parks and mountain ranges, often leading to many natural hidden wonders.
Mount Sneffels via Blue Lakes Trail
One of the most popular hiking trails is located nearby the City of Ridgway in the Mount Sneffels Wilderness. This Hiking Trail is 20.9 km long and it is considered hard and suitable for only Hikers with advanced Skills. The Trail is open from June to November. There's a stunning turquoise lake at the trail end. It also features a waterfall and offers many activities like Hiking, Rock Climbing, Camping, Fishing, Canoeing, Backpacking, Horse Riding, Snowshoeing, and nature Trips.
Blaine Basin
Blaine Basin Hiking Trail is near the City of Ridgway in the Ridgway State Park, Colorado. The Trail features the mighty Uncompahgre river, and it is 9.7 km long. This moderate trail is best suited for hikers with Medium and Advanced Skills. The Hiking Trail is open from April to October, and it offers many activities like hiking, Horseback Riding, Camping, Walking, Bird Watching, etc. The Trailhead is near Blue lake, and it offers magnificent views of the state park and the San Juan Mountains in the distance.
Wright Lake via Yankee Boy Basin
Another popular hiking trail is in the Uncompahgre National Forest, closer to the Orvis Hot Springs of Colorado. The hiking trail is 4.3 km long, and it is ideal for Hikers with Medium and Advanced Skills. The Hiking Trail is also popularly used by OHV riders as it is a partly paved and wide trail. Tourists frequent this Hiking Trail from July to September to participate in various activities like hiking, OHV Riding, Walking, Fishing, Canoeing, Camping, Backpacking, Nature Trips, and Rock Climbing.
West Fork Dallas Creek Trail
This Hiking Trail is also located in the Uncompahgre Forest, which was named after the Mighty Uncompahgre River flowing through it. This 4.0 km long is considered to be easy and suitable for all Tourists with or without Hiking Skills. As said trail features a river, and it offers stunning views of the River and the surrounding mountain peaks and national forest. The Trail is open all year long, and it is used for various activities like Hiking, Walking, Running, Fishing, Kayaking, White Water Rafting, Fishing, Nature Trips, and Bird Watching.
Safety Precautions While Visiting Orvis Hot Springs, Colorado
It is necessary to take necessary precautions while visiting the Orvis Hot Springs. These precautions will help you to make your trip safer and more enjoyable.
Wash Beforehand
It is important to shower or wash your body before entering these steamy pools. This helps the hot springs pools from getting contaminated especially during this pandemic, which will help the next people to soak and enjoy the steamy pools after you.
Dry Yourselves
It is advised to dry your body with a towel after soaking in hot springs instead of a washing/shower. Because these Hot Springs contain many essential minerals with various medicinal properties.
Splash Yourselves
It is ideal to splash your body with the hot water from the pools before completely soaking in. This process helps your body to adjust to the high water temperatures of the pools, and reduce the chances of getting dizziness.
Do Half-body Bath
It is highly suggested to do a half-torso bath before doing the Hot Spring bath. The process of a half bath allows your body to adjust to the water temperatures, and in turn, reduces the chances of straining of muscles which can cause severe muscle aches.
Drink Plenty of Water
It is highly suggested to drink plenty of water after soaking in these steamy pools. As you know the hot springs accelerate the process of sweating which can lead to Dehydration. Drinking more water helps you to boosts your spent body water levels.
Don't Overstay
It is advised not to spend overtime in these hot temperature pools. These steamy pools cause a reduction of water levels in our body through excessive sweating, which can cause dehydration. So it is best suited to leave the pools immediately after sweat forms on your neck and head.
Accommodations Near Ridgway Hot Springs
Being a popular destination for tourists visiting Colorado, the ridgeway hot springs are surrounded by many famous lodges offering various essential features.
Timber Ridge Lodge
Timber Ridge Lodge is a top-rated hotel located 8.6 miles from the City of Ridgeway, Colorado. The Lodge offers Non-smoking rooms and Family rooms with many features like Air-conditioning, Separate Living Room, Coffee/Tea Maker, Cable/Satellite TV, Iron, Wake-up Service, Bath/Shower, and Kitchen with all necessary electronics, etc. The popular hotel also has many luxury amenities like a Patio, Free High-Speed Internet Access, Water Park Offsite, Outdoor Fireplace, Board Games, Snack Bar, Express Check-in/Check-out, and many more.
River's Edge Motel Lodge and Resort
This Lodge is located on the Banks of Uncompahgre River offering stunning views of the River in Ouray which is 9.9 miles from Ridgeway City. The Motel offers Non-smoking rooms, Luxury suites, and Family rooms with various features like Air-Conditioning, Desk, Wake Up Service, Iron, flat-screen TV, Coffee/Tea Maker, Microwave, Refrigerator, Hair Dryer, and Complimentary Toiletries. The Resort also has many features such as Free Parking, High-Speed Internet Access, Breakfast, Hot Tub, and Picnic Area.
Restaurants Near Orvis Hot Springs
There are also many popular restaurants near the Ridgeway Hot Springs offering tasty food, multiple cuisines, the best value, and friendly service.
Taco Del Gnar
One of the top restaurants near the Hot Springs of Ridgeway on Sherman Street offering Quick Bites, Contemporary, and Fusion dishes. The restaurant has meals for Lunch, Dinner, and Brunch. They also have special diets with Vegan, Vegetarian Friendly, and Gluten-free options. The popular restaurant has features like Takeout, Outdoor Seating, Free Parking space, Accessibility of Wheelchairs, and Serves Alcohol.
True Grit Café
Another top restaurant is on Lena Street in Ridgeway City. This Budget-Friendly Restaurant offers cuisines for Steakhouses, Grill, American, Bar, and Soups. They have special diets for Vegan, Vegetarian, and Gluten-Free people. The restaurant has many features like Reservations, Takeout, Indoor Seating, Off-Street Parking, Television, High Chairs, Table Service, Serves Wine and Beer, and many more. The restaurant accepts payments through Visa, Mastercard, Discover, and Credit cards.
Conclusion
We highly recommend you to visit this modern natural hot spring facility. The facility has multiple pools ensuring you can get a spot even on crowded days. The facility also has kitchen and hotel rooms for you to eat and stay near this Hot Springs. The hot springs offer magnificent scenery all around. Moreover, the site has many popular tourist attractions for you to visit, offering several interesting activities for you to take part in. There are also popular hotels and restaurants nearby Orvis Hot Springs where you can stay and eat healthily, and tasty food with multiple cuisines for you to choose from.
Frequently Asked Questions(FAQ)
Are the Hot Springs open to the public?
Yes, Orvis Hot Springs is open to the public all day for 22$ fees.
What precautions were taken near Orvis Hot springs for protecting against Covid-19?
The Orvis Hot Spring facility follows strict rules like Masks, Vaccine certificate Entry, Social distance, Sanitizers, etc. to ensure the safety of the customers from the Covid-19 virus.
Is clothing optional here?
Yes, clothing is optional around the multiple pools in this Hot Springs facility. However, in other places like Kitchen rooms, Cabins or Hotel rooms, Campsites, nudity is strictly prohibited.
Are there any wildfires raging nearby these Hot Springs?
No, there are no raging wildfires currently located nearby this Hot Springs Gardens & Resort. For more details about the wildfires visit the Ridgeway State Park official website.