Radium Hot Springs is one of the unique natural hot springs you have ever come across. The Radium Hot Springs is on the rocky banks of the River Colorado. As the river passes through the canyon near the Hot Springs it creates beautiful scenery all around the surrounding area. These hot springs are at some distance from the towns Kremmling (north) and Edwards (south) of the State of Colorado.
The kirkham hot springs are similar to Radium in that way, all you need to do is tap here to learn more.
How does one Reach Radium Hot Springs?
These Radium Hot Springs can be only reached in two ways – By Trekking through a 1.1 km Hiking Trail from the Campground or Raft/Kayaking through the Colorado River. This Hiking Trail is one of the most popular tourist attractions in Colorado, As it has some gorgeous views of the river flowing in the canyon.
The Hot Springs are quite small compared to other hot springs nearby. The steamy pool is only 20ft/6m long. Although being a popular attraction the pool has not been commercialized. The Radium Hot Spring sits across the bank of the river offering views of the river flowing through the ravine disappearing behind the mountains across the horizon.
The Radium hot springs are located at a distance of 2 hours from Denver city in Colorado.
Location of Radium Hot Springs Colorado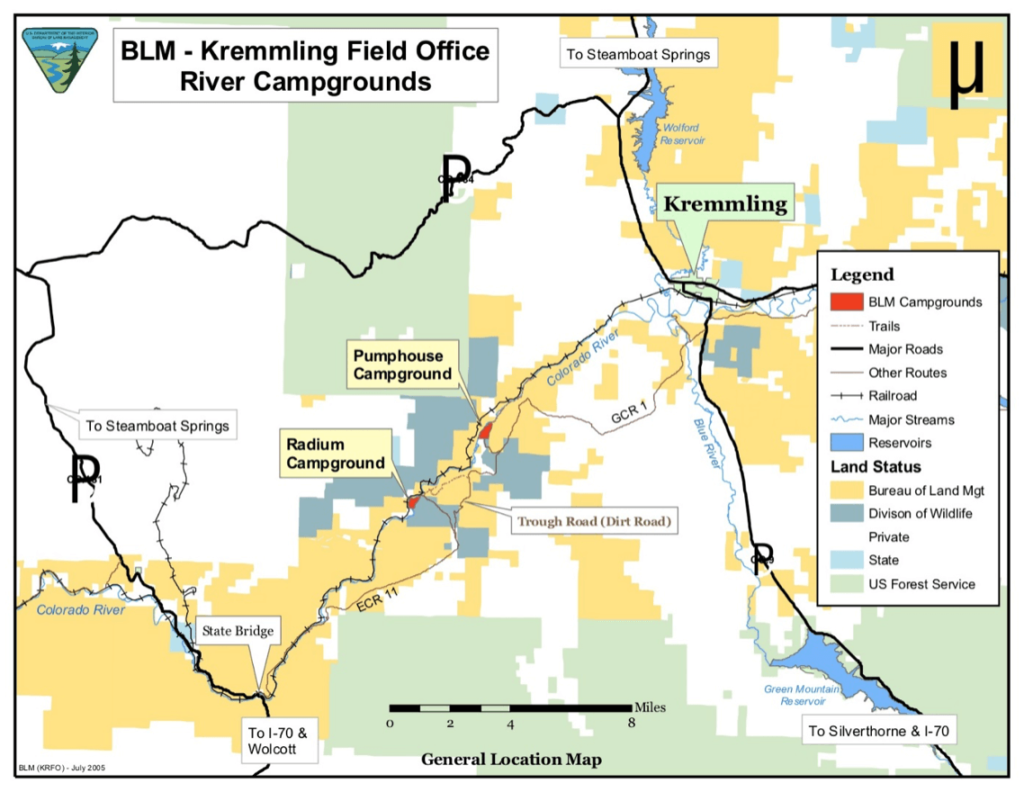 The Radium Hot Springs are accessible from the towns Kremmling, Silverstone, Eagle, or Edwards. The hot springs are located at a distance of 17 miles from Kremmling,36 miles from Silverstone, and 23 miles from Edwards/Eagle.
The Radium Hot Springs is near Grand country road 11 in Colorado. These Hot Springs are at a distance of 110 miles from Denver city.
Reviews about the Radium Hot Springs
The reviews about the Radium Hot Springs are mixed. While some people are happy about soaking in the steamy pool on the bank of the river, other people are often worried about the place being crowded, and the Trash thrown around the pool, etc.
Although there are many negative reviews, I still recommend visiting this place as it has beautiful scenery all around the pool. The crowds too can be a problem on weekends, it is ideal for you to visit on weekdays as there are fewer people around.
Activities near the Radium Hot Springs
Apart from soaking in the Radium Hot Springs, the people visiting this place can enjoy themselves by trekking through the canyons, Rafting/Kayaking through the river, Fishing, Camping, and many more.
These are some activities you can participate in when you visit these Hot Springs –
River Rafting
The Colorado River flowing through these canyons is ideal for people looking for rafting/kayaking through the rough currents produced by this river. If you are looking for an adrenaline rush, then this river perfectly suits you as it passes through the canyons and disappears behind the mountains in the distance. I highly recommend people to go kayaking through these rough currents and quick turns as it is an experience you will never forget.
Fishing
If you are not into the Adrenaline rush, fishing might be the ideal activity for you. The river is a prime habitat for various species of fish such as Largemouth bass, Rainbow trout, striped bass, Channel catfish, black crappie and Bluegill, etc. So it might be the best place for you to sharpen your fishing skills as you might have a higher chance of catching fish here than in other rivers.
Camping
These Hot Springs are the perfect location if you are interested in camping, as there is a large area nearby known as Murgrage Campground. These campgrounds having some great views as they are near the Colorado River banks. People often set up camps and stay through the night to stargaze as it has clear views of bright night skies. Here in this, you can rent all the camping gear and other necessary equipment for affordable rates.
Hiking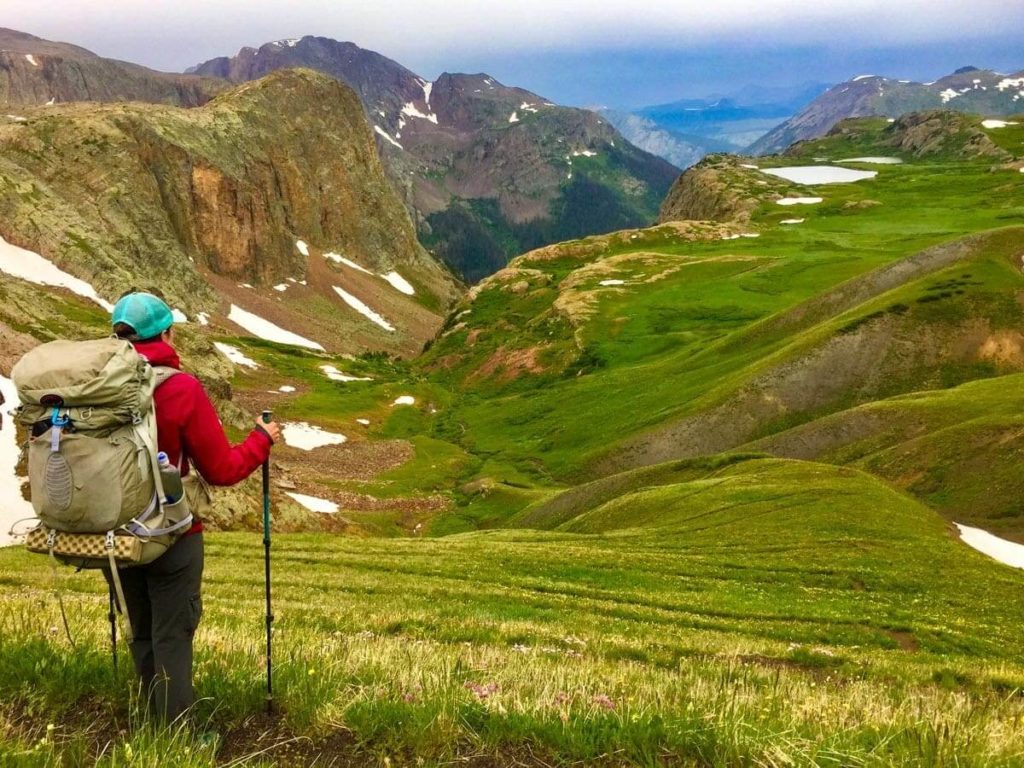 The Radium Hot Springs is also famous for various hiking trails passing through the canyons offering stunning views of the river below. The Hot Springs are commonly known among the Hikers who trek through these Rocky Outcrops often. Although the Hiking Trail is leading to the Hot Springs, It is considered to be an easy trail as it is only 1.1 km long, and it passes through a flat terrain for the most part. Also, as there are many hiking trails nearby, it might be favorable for tourists to choose from, depending on their skill level.
And for all those people planning to Hike through these beautiful landscapes, wearing the right shoes must be important, as you have to trek through Rocky terrain and its Popular Hiking Trails as they thread through the mountains and the canyons.
Because the Hiking Trails often crisscross through the river banks and mountainous outcrops, where the sand is lightly held and often there are chances of accidents occurring due to loose grip.
The baker hot springs are a part of Utah history, and you should learn more about them too. Click here.
Details About the Radium Hiking Trails
Radium hiking trails are in the State of Colorado. These trails can be accessed easily through various towns nearby such as Edward, Kremmling, and Silverstone. The trailhead can be reached by following Highway9 from the towns Edward, Kremmling, or Silverstone towards Grand County road 11 from which take right at the corner of the BLM sign towards the Mugrage Campgrounds.
The trail leading to the Hot Springs is a short 1.1 km long trail and is rated as an easy hiking trail. The trail starts from the campgrounds and aligns parallelly to the Colorado River offering beautiful views of the Ravine below. It takes only 20 mins for you to reach the end of the trail. The trail leads to the rocky outcrop which descends into the canyon towards the river banks where the Hot Springs are located.
Pros & Cons
Pros
Easily accessible
Beautiful scenery
Natural pool
Cons
Can be overflowed during winter
Crowded during Weekends
Small pool
Cleanliness around the pool
Best Hiking Shoes for Hiking
So, here are some of the best shoes you can wear while trekking through this rugged terrain –
Salmon X Ultra 3 GTX
It is one of the best shoes often recommended by advanced Hikers as it is lighter, durable, and offers the best on-hike performance compared to others. It offers the best grip and is suited for all types of terrains. Even though it is lighter it offers good cushioning. It is also waterproof which is ideal for hiking through the trails near Salida Hot Springs. The shoe weighs almost 1 pound which makes them one of the best in its class and, It is priced competitively, and it is offered in various sizes for you to choose from. The shoes also as a waterproof membrane making them ideal for hiking through wet surfaces or terrains.
Merell Moab 2 Ventilator
If you are looking for budget-friendly shoes, which do not compromise on performance, this might be the ideal choice for you. These shoes are comfortable due to the padded sole inside the shoe. Moreover, due to its unique modern design, it offers good breathing room. Apart, from being an affordable option, it offers better grip and traction on different terrains. Due to its rugged design, it has some of the best durability in its class. However, the shoes are not waterproof and are not suitable for day hikers or extreme Hiking Trails.
La Sportiva TX4
TX4 is one of the best shoes out there, if you are looking for versatile shoes and if you often venture out of the trail to discover new places. The shoe has a good grip and rugged design which allows you to climb or descend through steep surfaces. The shoes are lightweight and offer flexible movement for trekking through the Rocky terrain. It has a new modern design and comfortable Sole which makes it suitable for daily use. However, it does not have a waterproofing membrane making it not the ideal choice for hiking on wet surfaces. It has high durability and is best suited for long hiking trails.
Arc'teryx Aerios FL Gtx
This company is highly known for making stylish, and lightweight hiking shoes. The shoe weighs only 1.5 pounds making it one of the lightest shoes in its class. However, being light and stylish, FL GTX does not compromise on the on-trail performance. The shoes have a good grip and offer better traction on various surfaces. It has comfy sole pads and a flexible design which is essential for trekking for long durations through Steep terrain. Apart, from the attractive design, it has a waterproof membrane which makes it ideal for hiking on wet surfaces. Although the shoes are expensive, it is ideal for daily usage due to its modern look and better grip.
Vasque Breeze LT Low GTX
If you are looking for comfortable, lightweight, and stylish shoes, this might be the ideal choice for you. The shoes have an attractive and flexible design making them ideal for daily use. It also has comfy sole pads which are essential for Long term use. The shoes also have a waterproof membrane and secure lacing. Shoes are offered in 4 different colors and it is available in various sizes for you to choose from. They fit perfectly allowing you to achieve more miles without losing comfort.
Essential tips for trekking through Hiking Trails
And now if you have decided to visit these hiking trails, these are some tips for you to make your trip comfortable and safer as you have to hike through this Rough terrain –
Check Weather
It is one of the important tasks for all the people visiting these trails, to check the weather beforehand. The weather usually changes abruptly within minutes in this Mountainous landscape often, so it is ideal for you to check weather updates right before the trip. This will help you reduce the risk of getting yourself caught in the rough climate. Install weather app which offers accurate predictions of the weather all day.
Choosing the Right Track
One needs to choose the right track to start depending on your Hiking Skills. People often feel exhausted or regret choosing certain tracks due to their distance, terrain, and other factors. It is often best for people to evaluate their capability accurately and choose the right trail. If you are a beginner choose the smallest and easiest tracks to understand and to increase your hiking skills, if you are an intermediate hiker, choose the trail that is medium- length and of intermediate level and If you are an experienced hiker, choose the trail that allows you to further test your abilities and increase your skill.
Choose Proper Shoe and Socks
It is of great importance for hikers to choose the perfect hiking shoes for their hike. This allows these hikers to overcome all the obstacles easily while ascending or passing through the trail. Moreover, the type of socks you choose for the shoe is also essential for a positive hiking experience. The socks you choose must be perfectly fit, and very long to offer better comfort and stability.
Maintaining Steady Pace
Maintaining a steady pace is also important for hikers. Many beginners often exhaust themselves by maintaining an inconsistent pace while trekking through Hiking Trail. If you want to complete the hike successfully, you need to maintain your pace at low and consistent, which allows you to travel long distances without exhausting yourselves before reaching the end of the Trail.
Watch Your Step
It is often ideal to watch your steps when you are trekking through the Hiking Trails. These trails often consist of various obstacles like rocky surfaces, slippery terrain, and loose sand, etc. Apart from these factors, snakes and many other wild animals can be in your path when you trek through this wilderness.
Carry a Map
You need to carry a geographical map of the Hiking Trail you are visiting. This helps you from getting lost in this wilderness which often can be dangerous for you due to wild animals and Lush green forests covering in all directions.
The great mammoth lakes hot springs are something that you need to look into, they are magnificent.
Conclusion
I highly recommend people to visit Radium Hot Springs as it offers some of the best views in all of Colorado. The Hot springs look over the river rushing forward through the canyon and disappearing behind the turn at the horizon. The trail leading to this destination offers alluring views of the Rockies of the State of Colorado. Moreover, this place also allows people to participate in various activities they are interested in such as Fishing, Hiking, River Rafting or simply soaking in the Hot Springs.
Frequently Asked Questions(FAQ's)
Best time to visit this place?
It is ideal for you to visit this place all year long except spring when the water level of the river rises submerging the hot springs in it.
Are the Hot Springs crowded most of the time?
Yes, unfortunately being a popular tourist attraction, the hot springs are usually crowded during holidays and weekends. If you want to have some alone time, you should visit during weekdays.
Is car parking available?
Yes, there is a wide car parking area near hot springs.
Is it safe for children?
Yes, it is safe for children of all ages. The trail is short and the Hot Springs are well protected with a supportive Stonewall. Moreover, the temperature inside the hot springs is not high.