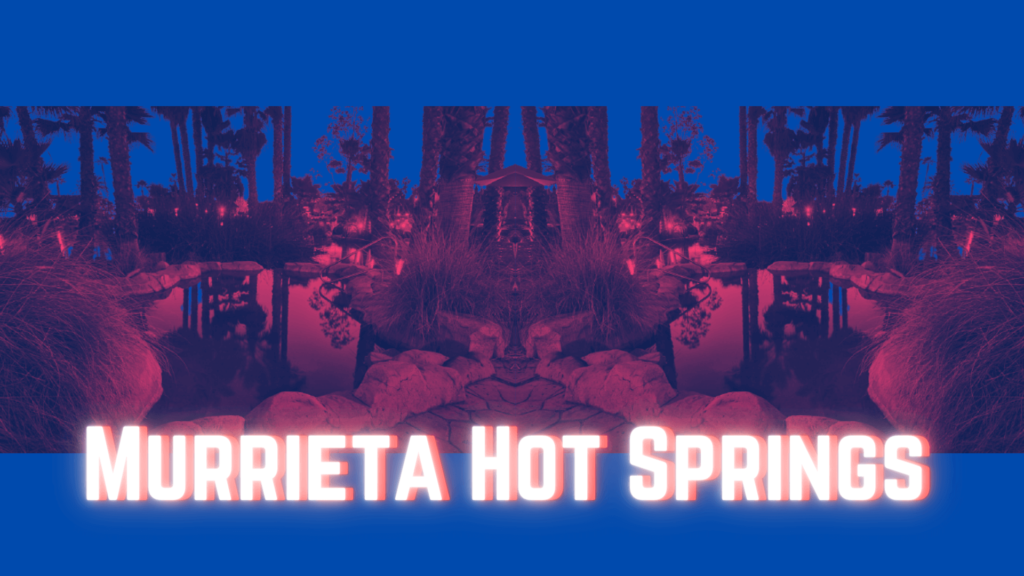 The Murrieta Hot Springs Facility is located nearby the Town of Murrieta in Southern California. The Hot Springs facility has four main features like Hot Springs Pool, Hot Springs Roman Spa, Hot Springs Bath Area, and Hot Springs Bath Lake. These four pools are directly fed by the steamy water from the source nearby. The spa in this facility offers many spa treatments like skin cleaning and body massages.  The commercial hot spring facility now consists of gardens and greenery, creating a tranquil environment all around you.
Murrieta Hot Springs
The Hot Springs were historically discovered by Luiseno Indigenous Tribes of California. The Tribes relied on the Hot Springs for warmth, cleaning, and healing. They believed the hot springs have various healing properties, which were confirmed recently. The hot springs have high mineral-rich content, that provides various medicinal benefits. The site gained popularity in the 1800s as it often received many tourists every year. The Hot Springs are located nearby the Historic sites and settlements of the Luiseno Tribes. They are many rock paintings, a village settlement, and grinding holes nearby. This evidence suggested the hot springs were considered sacred, and they have built settlements closer to the mineral-rich pools.
In 1902, Fritz Guenther a German settler bought these hot springs and built a modern health spa resort and hot spring facility. In the coming years, the hot springs went from one ownership to others. Until 1995, Calvary Chapel of Costa Mesa bought the resort and converted it into a Christian College and Conference Center. The Christian Retreat center has been modernized with new features to match the customer's expectations.
Best Time to Visit Murrieta Hot Springs Resorts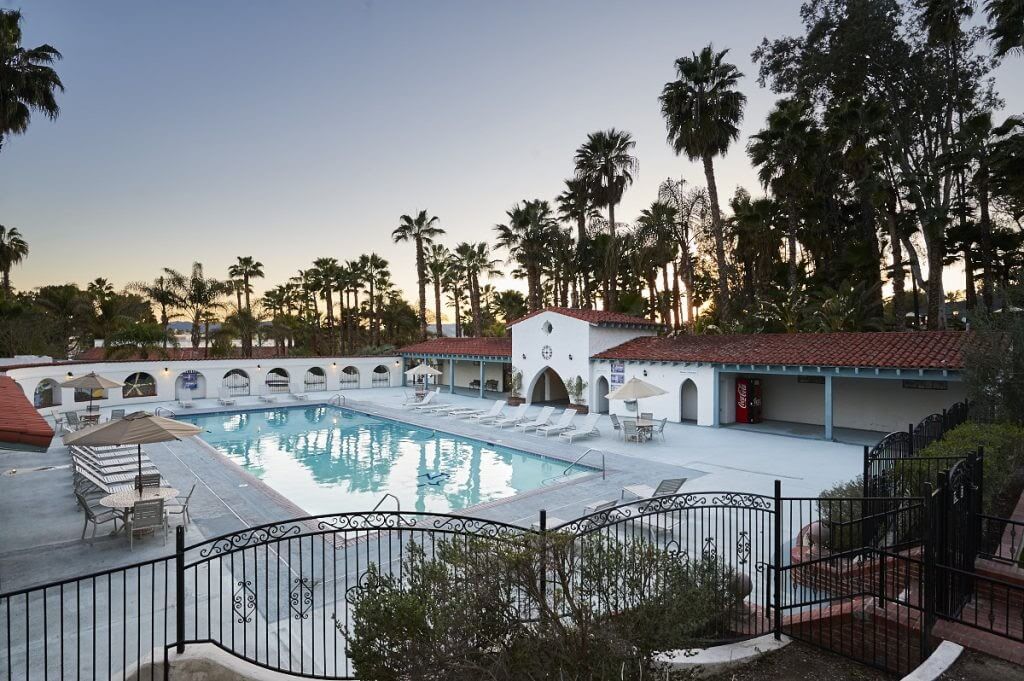 The Murrieta Hot Springs facility is open all year long. However, you can enter the premises only if you take part in the Christian Retreat Program. This program gives you access to all the facilities in this resort.
The Private Hot Springs is best suited to visit during winter, fall and spring. Because during summer, the temperatures in this valley soar high, making the soaking experience unpleasant. While in winter, the hot springs offer alluring views of snow-capped mountain peaks in the distance, making the soaking experience more refreshing and enjoyable. During Fall and Springs, visit the Murrieta Hot Springs during Sun Rise or Sun Set, when the hot springs offer picturesque views of the orange skies above.
Location of Murrieta Hot Springs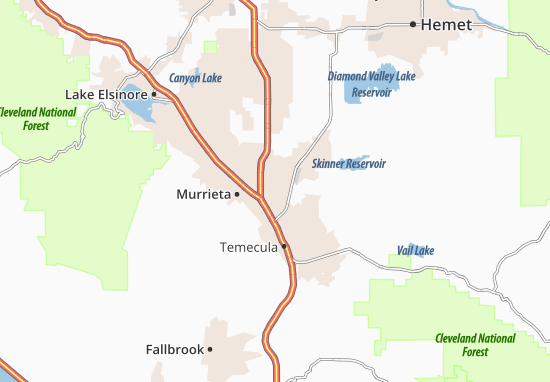 The Murrieta Hot Springs is located in the town named after itself, which is 7.0 miles from the City of Temecula in Southern California. The Town is also accessible from Los Angeles City, as it is just 82.6 miles from the Hot Springs.
From Temecula City, head north onto I-5 State Highway and head straight for 1.1 miles. Continue onto I-5 State Highway by taking an exit from I-215 N, follow this road for 4.2 miles. Keep a lookout for the Murrieta Hot Springs Road on the right, drive into this road and head straight for 1.7 miles which will lead you to the Margarita road. Follow this road into the town, which will lead you to the Resort on the left side.
Precautions to Take While Visiting Murrieta Hot Springs Spas
It is essential to take necessary precautions while vising these mineral-rich pools for your safety and also to make your soaking experience much more enjoyable.
Advanced Reservations
It is advised to make advanced reservations to join the Christian Retreat Program. Only joining this program can get you passes to soak in these mineral-rich pools.
Wash Yourselves Beforehand
It is necessary to clean yourselves properly before entering these steamy pools so that they do not get contaminated, especially during the pandemic, and be safe for the next visitor.
Do Half Body Baths
It is highly suggested to do half-body baths before completely soaking into the pools. This process helps your body to adjust to high temperatures of the water in the pools, which can cause burns and severe muscle aches.
Don't Overstay
It is advised not to stay overtime in these steamy hot spring pools as they cause excessive sweating due to the high temperatures of water, which can lead to Dehydration. It is ideal to leave the Hot Springs once your neck and head start sweating.
Dry Yourselves
It is essential not to bathe after soaking in the Hot Springs. Instead, dry yourselves with a towel because these pools consist of many essential minerals that provide various medicinal benefits.
Drink Plenty of Water
It is highly advised to drink a lot of water after a steamy hot spring bath. This will help you to regain the lost body water levels due to excessive sweating which can result in dehydration. 
More About Murrieta Hot Springs Resort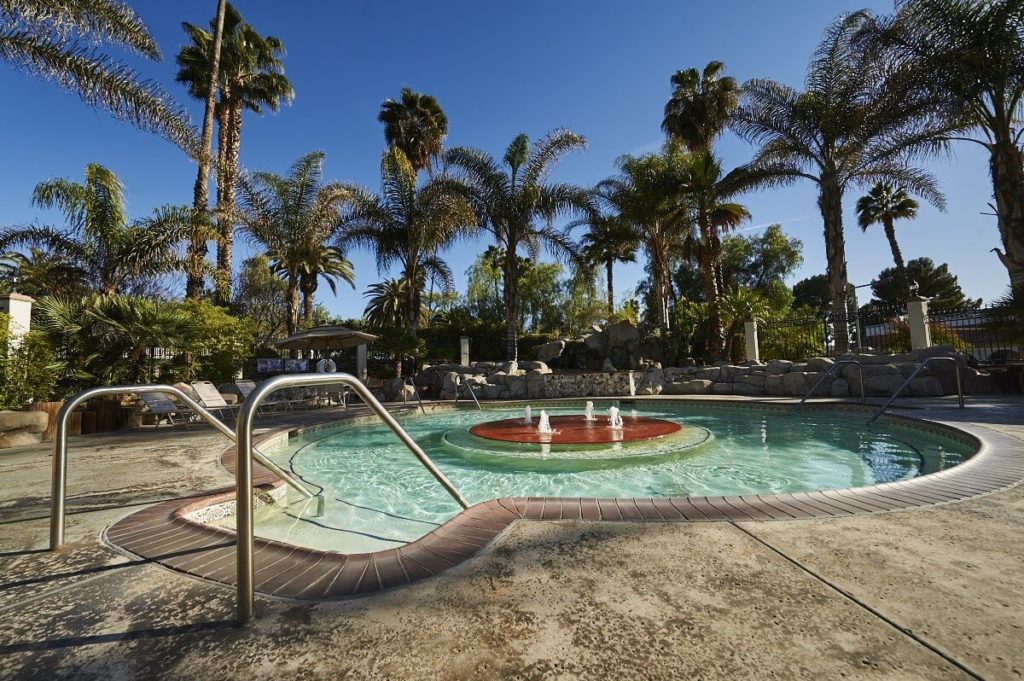 The Hot Springs Resort offers a serene soaking experience with tranquil surroundings and also various amenities like luxury suites with four popular lodges within the facility, a multi-cuisine restaurant with tasty and healthy dishes, a garden with seating areas, and many more. Moreover, the facility is perfect for those people who want to spend their time in a pleasant and spiritual environment mainly for prayers to reconnect with god. The Murrieta hot springs price range is quite affordable, making it a popular tourist destination.
The Resort's main attractions are Hot Spring Lake which consists of fish like Bluegill, Catfish, Largemouth Bass, and Small Mouth Bass where you can participate in fishing. Hot Springs Roman Spa which offers Baths, Pedicure, Skin Treatments, and Massages; Pool which is surrounded by a sun deck and outdoor seating areas; Hot Spring Bath Area with various private seating spaces surrounded by lush green gardens. 
Natural Attractions Nearby
The Murrieta Hot Springs Town is surrounded by many popular natural attractions which allow you to explore the surrounding wilderness and witness many natural wonders in it.
Tenaja Falls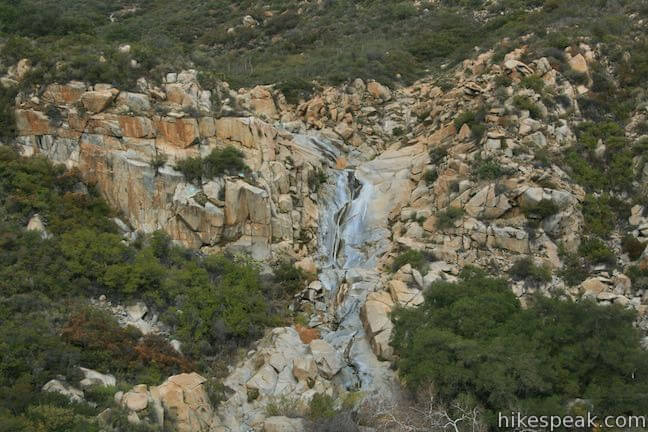 This waterfall is a Hidden Natural Wonder often not known to many tourists visiting Southern California or the famed Murrieta Hot Springs. The Waterfall is 150 feet drop located in the Santa Rose Plateau of the Cleveland National Forest offering picturesque views of the mighty waterfall falling down the mountain. The water cascading downfalls into a rock bottomed pool, which in turn pours down into another pool below, creating another small waterfall.
The Falls can be accessed by a 5-mile drive through the forest, and keep that in mind that the road is full of potholes and is best suited to drive an off-road Capable Vehicle on this rough road. From the end of the road, there is a short hiking trail leading you to the waterfall. This Falls and Hiking Trail are ideal if you want to spend some alone time in the wilderness as they are mostly deserted. 
Santa Rosa Plateau Ecological Reserve
This Ecological Reserve is spread across an area of 9000 acres, and it is primarily established to conserve and protect the different types of Ecosystems like Engelmann Oak Woodlands, Riparian Wet Lands, Coastal Sage Scrub, Chaparral, Vernal Pools, and Bunchgrass Prairie. As a result, this is a popular destination for nature and wildlife lovers to visit the reserve to witness and explore the diverse ecosystems here. The Ecosystems are also home to many rare and native species like fairy shrimps, bird species, and many more which are not found anywhere around the world.
Apart from these animals, the reserve also is home to many popular wild animals of California like Western Pond Turtles, Mountain Lions, Coyotes, Mule Deer, Badger, Bobcats, White-Tailed Kites, California Myotis, Opossum, California Ground Squirrel, Desert Woodrat, California Vole and many more. Moreover, the popular reserve also contains many hiking trails, horseback trails, lakes, waterfalls, campgrounds, hidden waterfalls, and many more. 
Lake Elsinore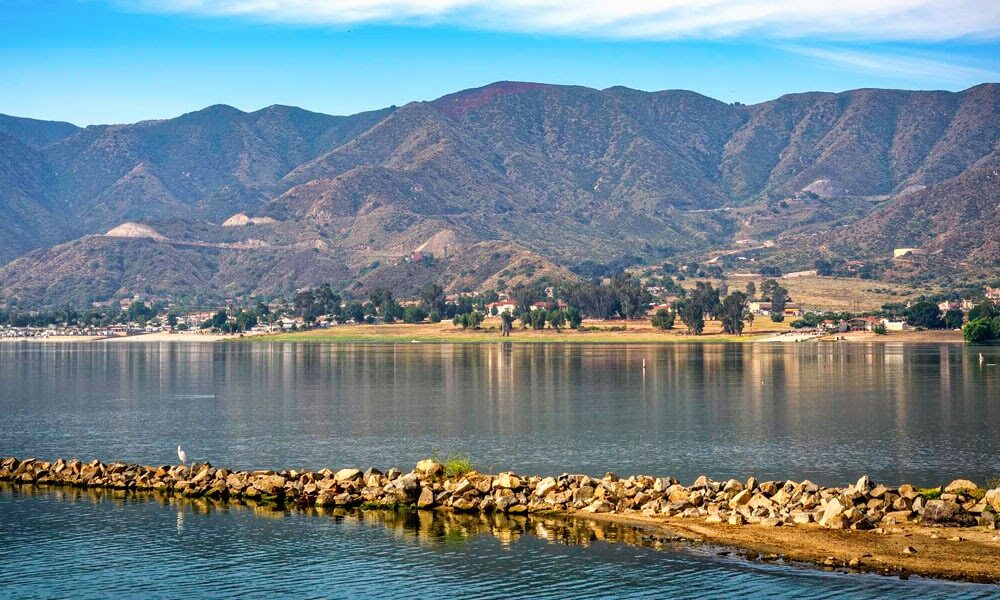 Lake Elsinore is a popular site with many hiking trails and campgrounds surrounding it. This is a freshwater lake located in Riverside County, which is fed by the streams from the mighty San Jacinto River. The lake was historically discovered by indigenous people of California who depended on this lake for food, cleaning, etc. Later, it was rediscovered by Spanish explorers, it was named Laguna Grande. The Spanish set up settlements along the banks of the lake. Later on April 9, 1888, the town of Elsinore was established on the northeastern banks of the lake, which it was named after.
The Lake is a popular site, and it offers various activities like Scenic Lake Boating Tours by facilities in the city for affordable rates. Fishing is home to many popular species like Black basses, Panfish, Largemouth Bass, Black Crappie, White Crappie, Bluegill, and Chanel Cat Fish; Swimming Beaches; and National Parks containing Hiking Trails, Campgrounds, and RV Parks. 
Oceanside Coastal Beach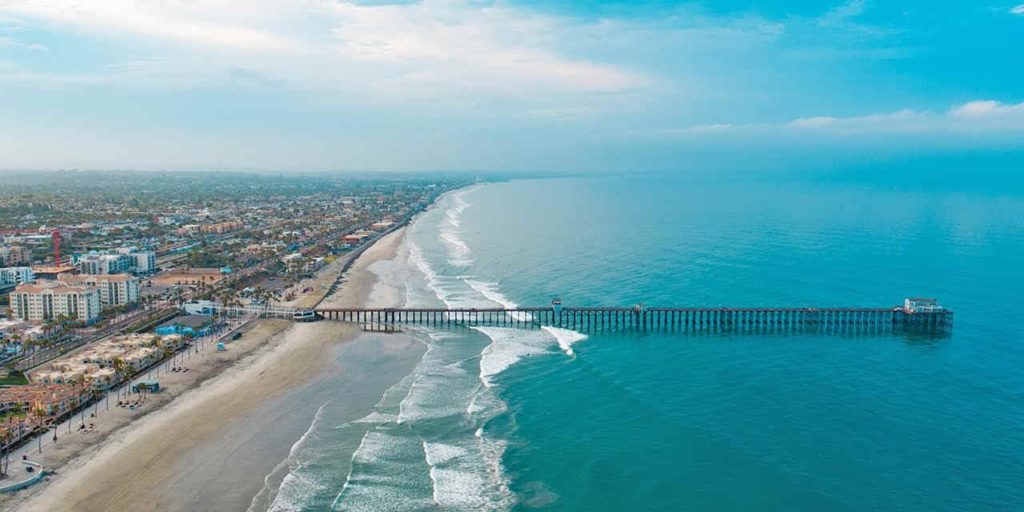 Oceanside is a sleepy city on the coasts of California, overlooking the vast Pacific Ocean. The Sea-side City is a popular destination and receives numerous tourists every year. As a result, many popular restaurants provide seafood and other cuisines. The hotels provide many amenities which are perfect for your stay. The main attraction of Oceanside is the beach itself which attracts many tourists who love to participate in activities like Surfing, Kite Flying, Beach Volleyball, Swimming, Soaking, and many more.
Apart from this, the city also offers picturesque boating tours to the nearby islands, Fishing tours, Scuba Diving Tours, etc. The City is the perfect seaside getaway, and it is also located just 36.5 miles from the Murrieta Hot Springs Resorts. 
Glen Ivy Hot Springs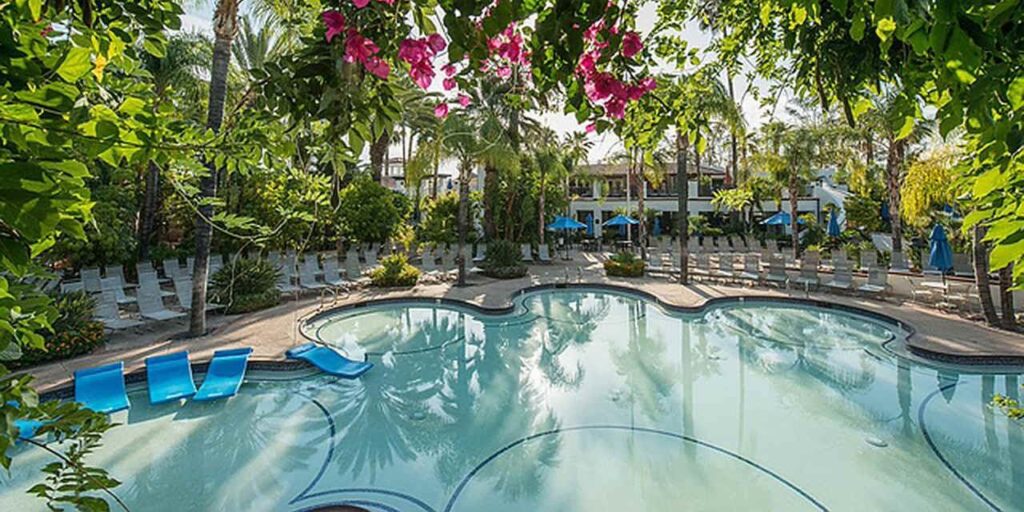 Glen Ivy Hot Springs facility is another private hot spring facility located just 27.9 miles from the Murrieta Hot Springs Spas in the city of Corona. The Facility is operated and maintained by a private owner. The facility has gained popularity over the years with various features like Club mud where you can take part in therapeutic medicinal mud treatment, Spa with various treatments and massages, a lap pool filled with steamy water, Secret Garden Deck with seating areas and bars. The Glen Ivy Hot Springs Facility also has its lifestyle store with trendy wear, branded clothes, and accessories. The Facility is the ideal location to spend some time soaking in the mineral-rich pools and gain access to the many unique facilities in the Glen Ivy Hot Springs Resort.
Activities You Can Participate In
There are many interesting unique and fun activities you can participate nearby the Murrieta Hot Springs during your visit.
Sun Rise Hot Balloon Rides
This is one of the most popular activities which has gained popularity recently in Southern California. The activity involves a scenic hot balloon ride over the Temecula Wine Country, which was wine farms spread over thousands of acres. The Balloon rides are often exhilarating as they fly above the wine farms, offering spectacular views of the wine farms below. The Tourism facilities offer these scenic hot balloon tours during sunrise for affordable rates. Moreover, the facilities also give access to the wine farms below and allow you to take part in Wine Tasting events. During your balloon ride, you can learn more about the history of Temecula Valley and also the Hot Air Balloons. The Facility also offers banners for special occasions like birthdays, marriage anniversaries, and others. 
Dolphin and Whale Watching
The nearby coastal towns and cities located just 37 miles from the Murrieta Hot springs have many Tourist Facilities offering scenic ocean tours with dolphins and whale watching. These tours are perfect for the tourists who have bucket lists to see these gentle giants in their natural habitats. The Dolphin and Whale Watching tours might be a little expensive, but is totally worth it as you get a chance to witness these rare and amazing creatures. Moreover, the Dana Point located along the southern California Coastal Line is considered to be the Dolphin and Whale Capital of the world as they are regular sightings of many whale pods and dolphin pods. They offer you scuba gear and protective equipment to dive into the ocean and spend time with these amazing creatures.
Scenic Plane Ride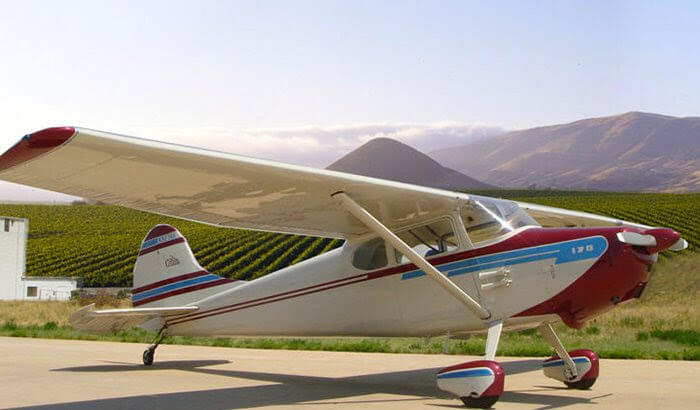 Unlike the Hot Balloon Rides, the  Scenic Plane Ride offers tours of not just the wine farms but also the diverse landscapes and their natural wonders from far up in the sky. This exhilarating flying experience and witnessing the many terrains below is an experience like no other. There is a nearby airstrip with private flight facilities which offer these tours over the surrounding wilderness at the price ranges of 500-$550. Moreover, here in the facilities, you can have private tours or family tours for you to choose from. The Tour lasts for 4 hours, and they take all precautions to protect you from Covid-19 Pandemic. Similar to the Hot Air Balloons, these facilities also offer wine farm tours and activities like wine tasting events, etc. 
Motorcycle SideCar Tours
You can also participate in picturesque motorcycle sidecar tours through the Temecula Valley located near the Hot Springs of Southern California.
These unique sidecar tours allow you to explore the scenic passes and vineyards surrounding the roads for thousands of acres. The Motorcycle Side Cars provide you the vehicle and protective gear for you during the trip. They charge an amount of 149-$155 for these unique rides or tours. If you do not possess a valid driving license, the facility provides you with a certified trainer and guide to help you with your tour.  Moreover, the motorcycle tour facilities sanitize their motorbikes regularly and follow strict rules and regulations for your safety during this Covid-19 Pandemic. 
Golfing
Golfing is also a popular activity for the tourist visiting the Murrieta Hot Springs in southern California as there are many popular golf clubs and courses nearby offering various luxurious amenities and also places for you to stay.  The Links at Summery is the most popular golf course or club nearby. This Golf Club offers multi-hole golf courses and scenic views of the Ortega Mountain Ranges nearby. 
This premium golf club is spread across an area of 6800 yards. If you are into golfing or beginner, then this golf club might be the best suited for you. The Club's many golf courses help you to test and boost your golfing skills. Moreover, the golf club charges affordable fees for the golfing experience. 
Hiking Trails Nearby
Hiking through the many trails here offers a chance to explore the diverse landscapes and the many natural attractions & wonders of Southern California. Moreover, an abundance of trails means you get to choose the right hiking trail based on your hiking skills.
Keller Hiking Trail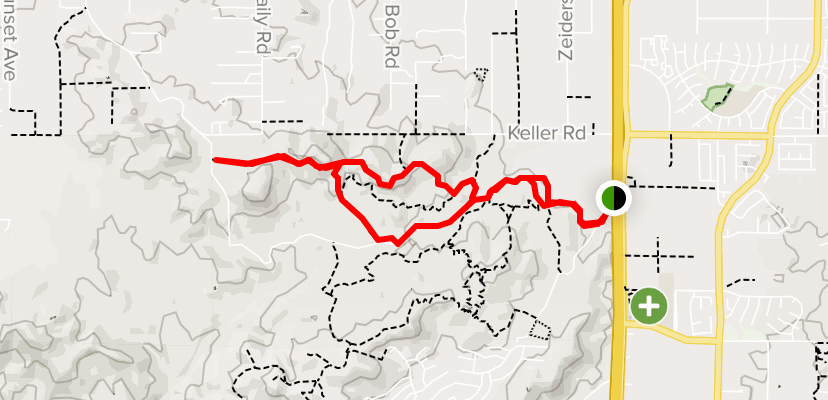 This is an open hiking trail that consists of thick shrubs and grasslands located nearby Murrieta Springs City. The Hiking Trail is 8.7 km long, and it is considered moderate. The Trail is best suited only for Hikers with Medium and Advanced Hikers due to open surroundings with no shade and long-distance. The Keller Hiking trail is open all year long for activities like Hiking, Mountain Biking, Running, and Nature Trips, etc. Mostly it is used by Mountain Bikers, as the trail's sudden twists and turns make it perfect for mountain riding.
Sylvan Meadows Loop Hiking Trail
This hiking trail named after the Sylvan meadows is the easiest of all. The Hiking Trail is closer to the Murrieta Hot Springs and is used to explore the wilderness of Sylvan Meadows. The Sylvan Meadow Hiking Trail is 4.5 km long and is a looped trail. The Trail is suitable for all tourists, with or without Hiking Skills. The Sylvan Meadows Trail is open all year long, and it offers various activities for the visitors like Hiking, Walking, Running, Horseback Riding, Bird Watching, Nature Trips, and Witness Wild Animals. 
Tenaja Falls Hiking Trail
The Tenaja Falls Hiking Trail attracts tourists who are visiting the Hidden Waterfalls nearby Murrieta, in the San Mateo Wilderness. Apart from the waterfall, the trail features a river stream and a pond. This Easy Hiking Trail is 2.4 km long, and it is ideal for Tourists with or without Hiking Skills. The Trail is open all year long for people who love to take part in many activities like Hiking, Waterfall Views, Swimming, Fishing, Soaking, Running, Walking, Nature Trips, and Bird Watching. Dogs are permitted into the trail but must be kept on a leash. 
Vernal Loop Trail to Transpreserve Loop Trail
This Hiking Trail gives access to other loop trails nearby. The Trail is in the Santa Rosa Plateau Ecological Reserve, which is home to distinctive ecosystems. This trail lets tourists explore the ecological reserve and witness stunning landscapes and wild animals in their natural habitat. The Trail is 5.3 km long, and it is best suited for tourists with or without Hiking Skills. It offers various activities like Nature Trips, Hiking, Witness Wildlife, Walking, Running, Backpacking, and Camping, etc. An entrance fee must be paid to access this Hiking Trail.
Wiashal Trail Loop to Cole Canyon
This Hiking Trail is best suited to explore the scenic landscapes of Cole Canyon, found in the Cole Canyon Natural Park. This hiking trail is 2.7 km long, and it is considered to be easy, which means it is suitable for all Hikers with or without Hiking Skills. The Trail features a river, and it offers various activities like Walking, Fishing, Canoeing, Kayaking, Hiking, Running, Nature Trips, and many more. The Hiking Trail is open all year long.
Vail Lake Loop Hiking Trail
This Hiking Trail is located in the famed Temecula Valley nearby Temecula City, which is 7 miles from the Murrieta Hot Springs Resort. This 11 km long Hiking Trail is considered moderate, and it features a lake, after which it is named. So the Hiking Trail is only best suited for Hikers with Medium and Advanced Skills. Dogs are also accepted into the Hiking Trail, must be kept on a leash. The Trail is accessed by tourists all year long where they participate in various activities like Fishing, Canoeing, Mountain Biking, Hiking, Backpacking, Camping, and many more.
Tips and Tricks to Improve Your Hiking Skills
There are certain essential tips and tricks are given by certified trainers to help improve your hiking skills to overcome obstacles easily and complete the hardest hiking trails.
Don't Overdo Hiking
Hiking is a type of fitness exercise, and it should be treated as such. Like in any other fitness routine, overdoing can lead to muscle strains or sore muscles. So it is advised to start hiking short distances for short times and increase the distance and time as your strength improves.
Stretching
It is highly suggested to stretch yourself before and after every hike. This process will improve your body's flexibility and make it easy to overcome obstacles easily through the Hike.
Improving Balance
Balance is very important for trekking through the Hiking Trails as it helps to ascend steep climbs and obstacles easily without losing grip which may result in injury. It is advised to do fitness exercises like single-leg balance techniques. 
Strengthening of Core
Your body's core is the most important part, as all the movements originate from it. Strengthening this part with exercise-like planks will maintain your hiking posture, breathing efficiency, and back strength which reduces the chances of Ankle Sprains, and Knee aches.
Improve your Water-Intake
Consuming water more during the hiking trips will help gain strength to complete the trail by boosting the body's water levels back to normal.
Recovery Period
This process involves increasing your speed through the trail until you get exhausted and take a break and once again follow the above procedure. The Recovery period in between regains strength and increases stamina.
Improve Leg Strength
Hiking is solely dependent on your leg strength as it is the one that makes your hike easy and more joyful. It is advised to do exercises like Lunges, Squats, and Calf Raises to build up your leg muscles which in turn improve your leg strength.
Accommodations Near Murieta Hot Springs Resorts
Murrieta City is a quite popular city in Southern California due to the presence of the Murrieta Hot Springs Facility.
Hampton Inn and Suites
One of the best hotels located in Murrieta short distance from Murrieta Hot Springs and Temecula Wine Country. The Hampton offers three types of rooms like Non-Smoking rooms, Luxury Suites, and Family Rooms for the price range of $118 to $130. These Hotel Rooms have various features like Air-Conditioning, Safe, Microwave, Refrigerator, and Flat Screen TV. Hampton Inn and Suites also offer various luxury amenities like Free Parking Space, Heated Pool, Free High-Speed Internet Connection(Wi-Fi), Fitness Center with Workout Room, Meeting Rooms, Business Center with Internet Access, BBQ Facilities, Breakfast Buffet, Convenience Store, Baggage Storage, Gift Shop, ATM on-site, Laundry Service and Free Breakfast.
Courtyard Lodge
This Hotel is located on the Madison Avenue of Murrieta City closer to the Hot Springs Facility. Courtyard Lodge offers Non-Smoking and Family rooms which offer many features like Air-Conditioning, Housekeeping, Safe, Storage, Shower/Bath, Comfy Bed, Modern Furniture, and many more. The Hotel Charges are in the range of $100 to $150 for the rooms. The Courtyard has its own restaurant which offers multiple cuisines, healthy dishes, special diets at budget-friendly prices. The Courtyard Murrieta Hotel offers many luxury amenities like Free Parking Space, Free High-Speed Internet Connection(Wi-Fi), Bar/Lounge, Restaurant, Heated Pool, Fitness Center with Workout Room, Baggage Storage, Outdoor Pool, Convenience Store, Laundry Service, Hot Tub, and a Business Center with Internet Access. 
Restaurants Nearby Murrieta Hot Springs
Richie's Real American Diner
This is a top-rated restaurant located on Murrieta Hot Springs Road in the City of Murrieta, Southern California. The Diner offers meals with various types of cuisines like Diner, American, and Healthy. Richie's Real American Diner is very health cautious as they offer special diets with Vegetarian Friendly, Gluten-Free, and Vegan Options. The Famous Diner has many features like Free Parking Space, Takeout, Reservation, High Chairs Available, Wheelchair Accessible, Indoor Seating, and Table Service. The Hotel accepts payments through Credit Cards and Debit Cards.
Sizzler Restaurant
This restaurant is also popular in the City of Murrieta, and it offers various cuisines like American and Steakhouse with meal services. They also offer special diets with Gluten Free Options, Vegetarian-Friendly Options, and Vegan Options. The Sizzler restaurant has many features like Takeout, Reservations, Wheelchair Accessibility, Indoor Seating, Flat-screen TV, Serves Alcohol and Table Service. The restaurant is also popular in seafood dishes and Salmon Dishes and has a Craft Salad Bar. 
Conclusion
We highly recommend you to visit the Murrieta Hot Springs facility and take part in their spiritual Christian retreat program which gives access to the Steamy Pools, Bath Area, Lake, and Spa facility. Moreover, the soaking experiences in the tranquil environment surrounding the premises of this facility make the trip worthwhile. Furthermore, the Hot Springs resort has its restaurants and lodges. The Murrieta Hot Springs is easily accessible due to its location along the I-15 California State Highway in Murrieta City. The Hot Springs offers many interesting activities and chances to explore the surrounding natural attractions and stunning landscapes of South California.
Frequently Asked Questions(FAQs)
Are the Hot Springs open to the public?
No, the Murrieta hot Springs is closed to the public. However, you can get access to the pools by taking part in the Christian retreat Program conducted by the facility.
Where to stay near the hot Springs?
The Murrieta Hot Springs has its lodge where you can stay during your Christian Program.
Is the facility open now?
Yes, the Murrieta Hot Springs facility is open now for all people taking part in their programs.
What are the other features of the Hot Spring facility?
The Murrieta Hot Springs resort has many features like Hot Springs Pool, Hot Springs Roman Spa, Hot Springs Bath Area, Restaurant, lodge, and Hot Springs Bath Lake.