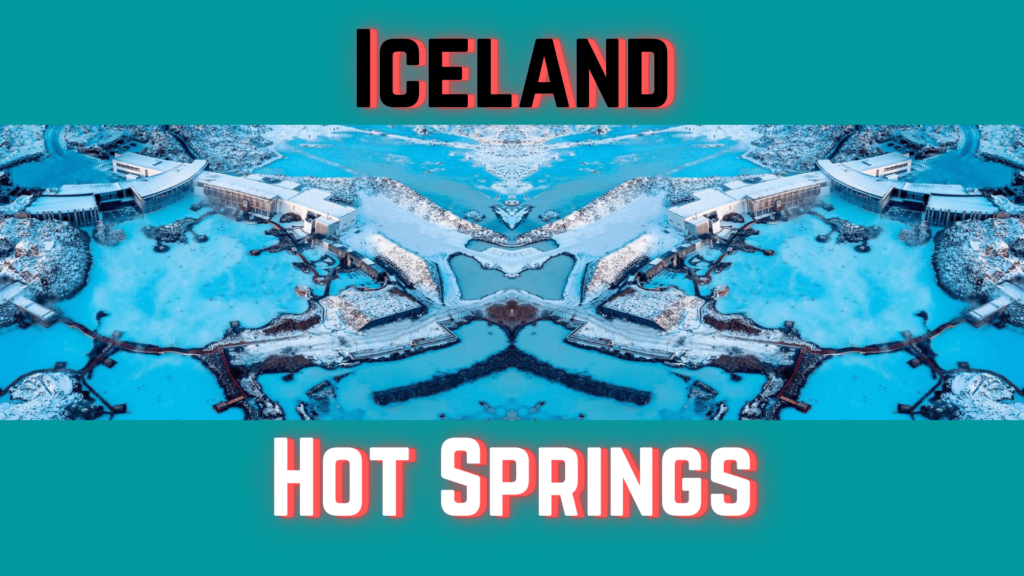 Iceland is a Nordic island nation in the North Atlantic Ocean. It is part of the European Union and is the 18th Largest island in the world. The country is of two different worlds – while the surface contains snow-coated mountain ranges, freshwater lakes, and rivers, glaciers due to its place just outside the Arctic Circle, under surface is filled with molten magma, lava fields spread across large areas which pressurize numerous Active Volcanoes. That is why this island is popularly known as the "Land of Ice and Fire".
The island was first discovered by the Nordic Seafarers and Adventurers during Viking Era 1000 years ago. Since then the island has been inhabited by many Nordic and Celtic populations. The island further helped the Vikings to discover Greenland and North America.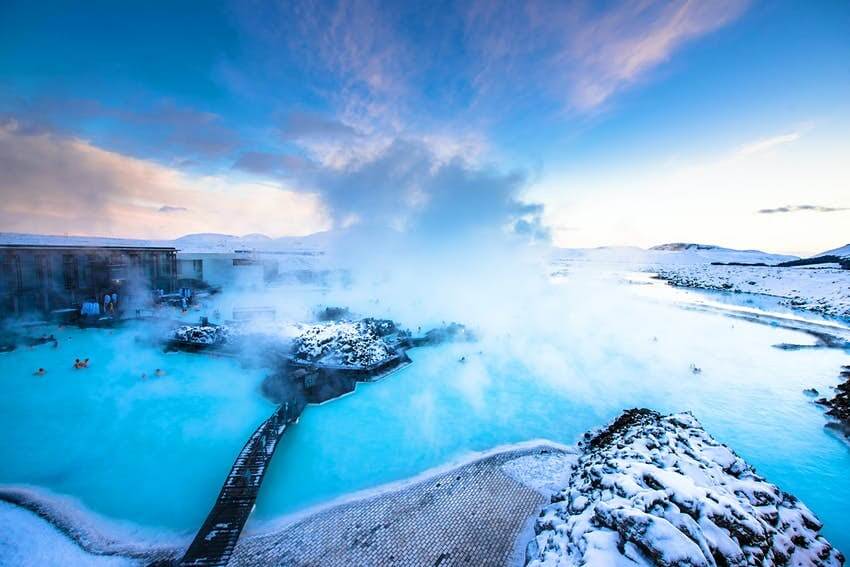 Now Were Do We Go First?
Reykjavik is the capital of Iceland, and it's the island's largest city. Close to half of the population of Iceland live in the capital Reykjavik. Reykjavik was first properly inhabited in AD874 and the city was founded in the year 1785. The new modern Reykjavik is however considered to be one of the Cleanest, Greenest, and Safest Cities in the World. The river Ellioaa runs through the city, and it is considered a prime spot for Salmon fishing.
The island is only partially inhabited, and large areas are still surrounded by Pristine wilderness. Due to Snowy landscapes, Glaciers, Volcanic Mountains, Rivers, and Freshwater lakes, the country has been a popular tourist attraction for people coming from all over the world. So much so that half of the Icelands Economy depends on the Tourists.
Apart from this, there are many Iceland Hot Springs, Geothermal pools and warm pools are spread all over the country. This also attracts tourists from other countries to visit Iceland and soak in these natural hot springs and encounter views of the Stunning Winter landscapes under the Northern Lights and Midnight Sun.
Differences Between the Various Naturally Heated Pools
Geothermal Pools
Geothermal pools are large water bodies like lakes, swimming pools, rivers, and seas that are fed by the Groundwater which is geothermally warmed up by Earth's Crust. These large pools can accommodate many people and there are many popular geothermal pools located in Iceland such as Geosea, Husafell Canyon Baths, Nautholsvik Geothermal Beach, Sky Lagoon, Strutslaug Geothermal River, and many more.
Natural Hot Springs
Natural Hot Springs are smaller water bodies with higher temperatures and these are also fed by Steamy groundwater and various essential minerals from Earth's Crust. Due to their smaller size, they cannot accommodate many people. Landbrotalaug Hot Pot, Reykjadalur, Hellulaug, Landmannalaugar, Laugavallalaug, Hrunalaug, and Hveravellir is some of the Iceland Hot Springs and most widely known Natural Hot Springs in Iceland.
Man-Made or Commercial Hot Springs
Apart from the natural hot springs, there are also man-made pools that are sustained by the natural hot springs. The water from the natural hot springs is filtered and fed into the pools. Due to this, the composition of various minerals in these waters is less compared to Natural Hot Springs. Seljavallalaug, Horgshlid, Secret Lagoon, Myvatn Nature Baths, Krauma, Kvika Footbath Blue Lagoon are some popular Commercial Iceland Hot springs.
Warm Springs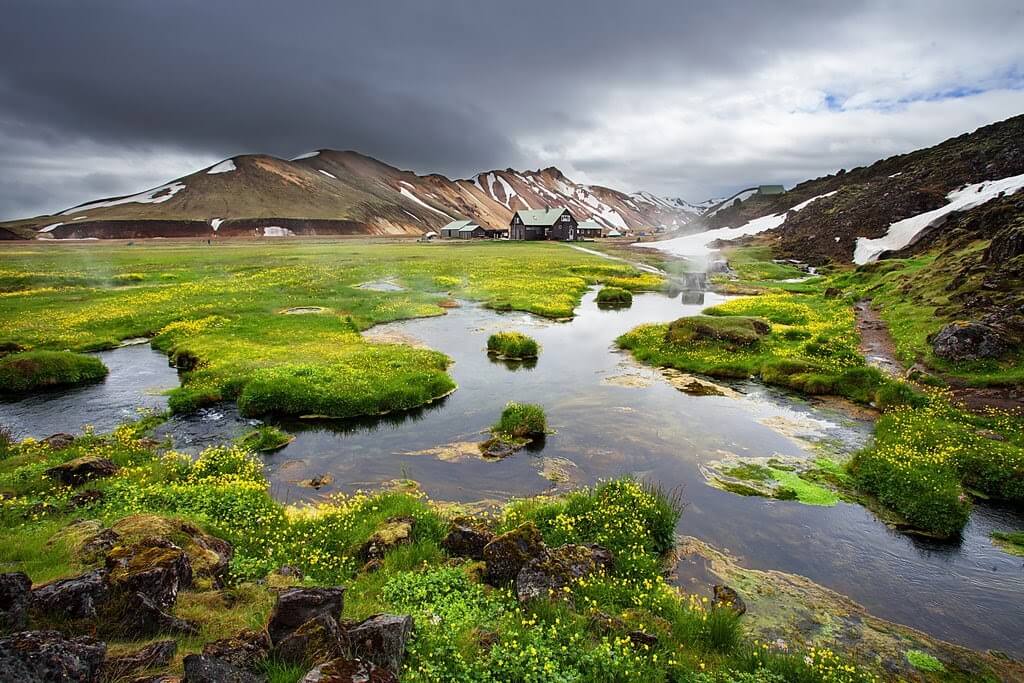 Warm springs are smaller water bodies like hot springs, but the water temperature is less compared to the Hot Springs. They can also accommodate many people and are not very popular among the tourists visiting Iceland. They are also fed by the steamy groundwater from the Earth's crust.
Popular Iceland Hot Springs Which are Natural
These are some natural Iceland hot springs that you can visit during your trip without any hesitation.
Reykjadalur Hot Spring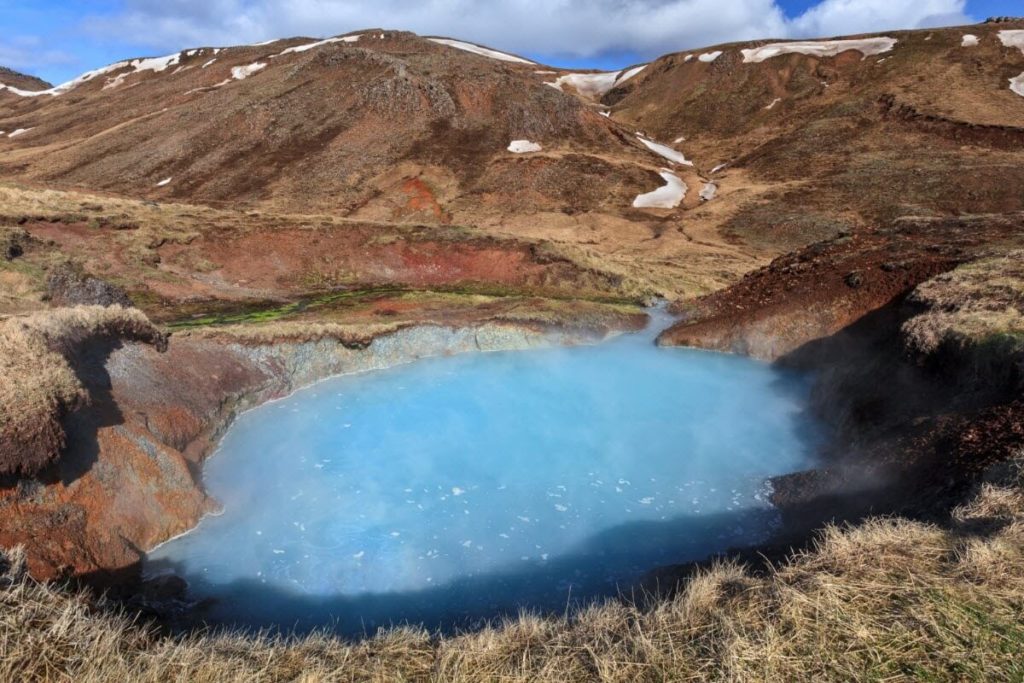 This is one among all the natural Iceland hot springs which are located at a distance of 40mins from Capital Reykjavik. It is known as Steam valley and is located in the Southern part of Iceland. Reykjadalur Hot Spring offers scenic views of a waterfall and surrounding mountains. Due to this, several tourists visit this place every year. Reykjadalur Hot Springs can be reached by following a hiking trail that leads you through the steams from the mountains, as you ascend through the mountainous terrain where at the end you can see the turquoise pool located in a small valley in between the Mountain peaks.
Hveravellir Hot Spring
Hveravellir is one of the Iceland hot springs located in all of Iceland. The Hot Springs are located in the valley of hot spring in Hveravellir Nature Reserve. This place can be accessed by F735 road starting from Bjpfadalir and heads towards the east to Hveravellir Hot Springs. This Famed Hot Spring is located in a lagoon, and it offers stunning views of the Glaciers, Snow-coated Mountains, and lava fields in the distance. The hot springs can be reached by trekking through a trail for almost 2 km from the F735 road. There are many other popular hot springs nearby.
Kerlingarfjoll Hot Spring
This is another widely-known hot spring located in the valley of Hot Springs in the Hveravallir Nature Reserve. This hot spring can be accessed from the nearby Kerlingarfjoll Mountain Resort. It is located in between two stunning mountains and the hot springs are popularly known for their high iron content. Iron content in the water is often helpful for people suffering from Anemia. Soaking in a hot spring in between two mountains and looking over the valley in distance is an amazing experience you will never forget.
Hellalaug Hot Spring
This Hot Spring is a unique geothermal pool located on the beach in the Westfjords peninsula. It is located on a small river between the rocky terrain looking over to the ocean. It is only 500 meters from the Hotel Flokalundur. A borehole feeds the steamy water into the Hot Springs. It is highly popular among tourists as it offers scenic views of the ocean, and often it is crowded due to its popularity. There is a parking lot above the Hot spring where you can park your vehicles and a hotel nearby for you to stay.
Landmannalaugar Hot Springs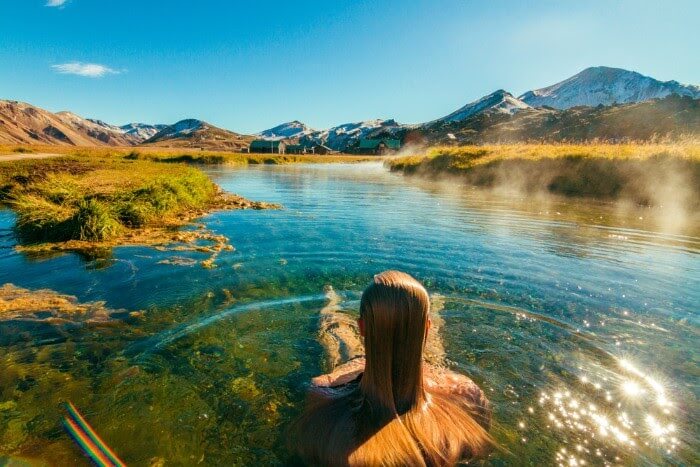 These Hot Springs are located in the Icelandic Highlands offers stunning views of the Multicolored mountains and is a popular location for hikers. The sandy mountains in the surroundings change shades into different colors such as Yellow, Black, Purple, Green, and Blue as the setting sun rays fall on them. This creates awesome scenery all around the pools. The Hot Springs are located in a valley between the mountains. Due to its picturesque landscape and many popular hiking trails, numerous tourists visit this place every year. It is ideal to visit these hot springs in summer.
Laugavallalaug Hot Springs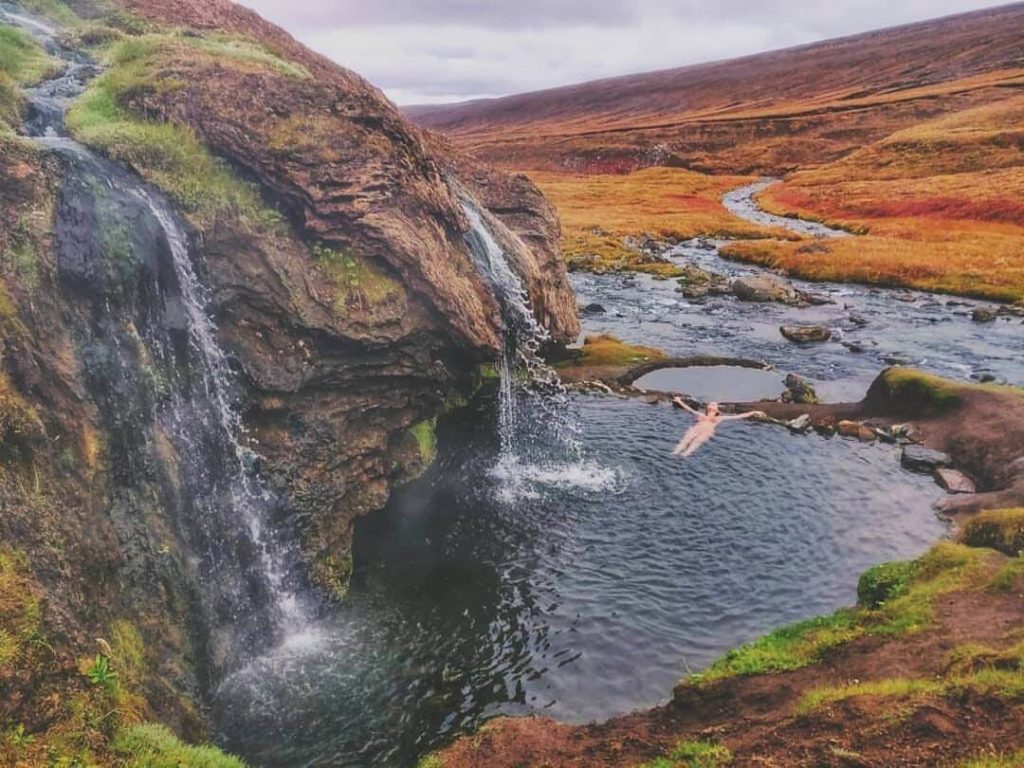 Laugavallalaug is a hidden ht spring nearby Vatnajokull National Park in the Eastern part of Iceland. There is also a natural waterfall nearby the Laugavallalaug Hot Springs. The hot springs are on the Laugavalladalur valley closer to the ruins of the empty Laugavellir Farm. Due to their remote, the hot springs are not widely known and are difficult to reach. If you love to explore the Icelandic wilderness and finding hidden gems, this hot spring might be ideal for you.
Hrunalaug Hot Springs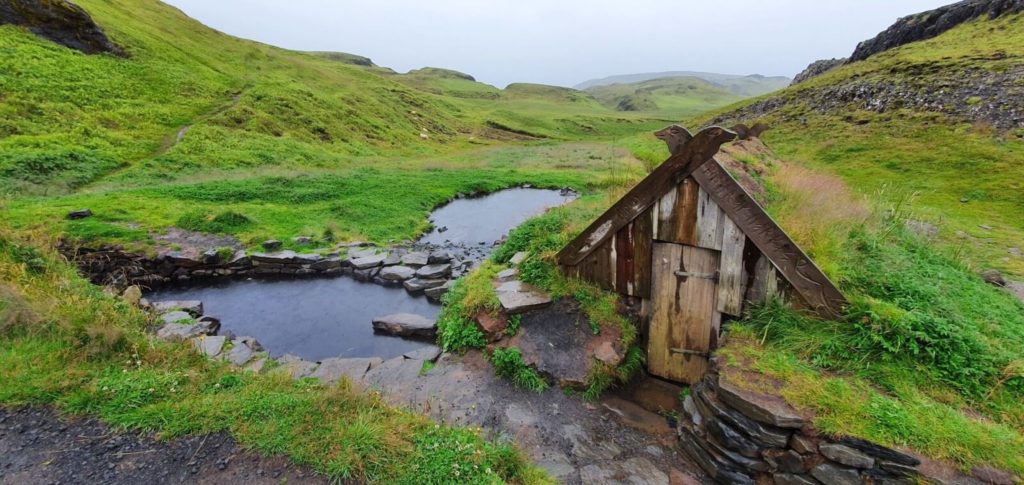 The Hot Spring is located in the middle of the valley offering stunning views of the Greenfields and the Mountains in the distance. The temperature of the pool is 40 degrees Celsius, and it is ideal for soaking. If you are traveling along the Icelandic Ring Road and are visiting various tourist attractions along the road, this hot spring might be the ideal one for you as it is located along the highway. It is also only 5 mins away from the Famous Golden Circle highway in Iceland. Icelandair Hotel Fludir is a popular hotel that is located closer to the hot springs, which is best suited for your stay.
Grjotagja Hot Spring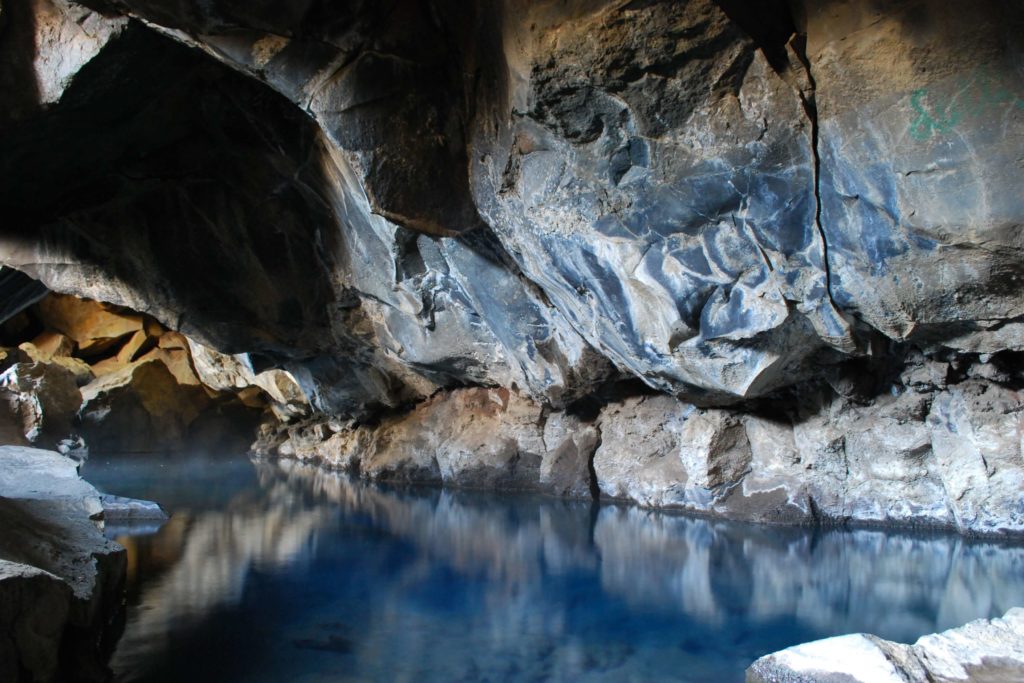 Grjotagja Hot Spring is the most popular hot spring all around the world as it is shown in several episodes of the Game of Thrones web series. The Hot Spring is located in a lava tube located closer to Lake Myvatn and the Famous Myvatn Nature Baths. This hot spring is also mentioned in tales of Icelandic Saga due to its mystic location among the caves. However, the caves are now closed due to increased temperature and the rocks tumbling because of the recent earthquake.
Famous Hiking Trails in Iceland
Hiking is another popular way to explore the vast wilderness of Iceland. Many tourists often trek through the many popular hiking trails to witness surreal landscapes and stunning scenery.
Skogafoss Waterfall Hiking Trail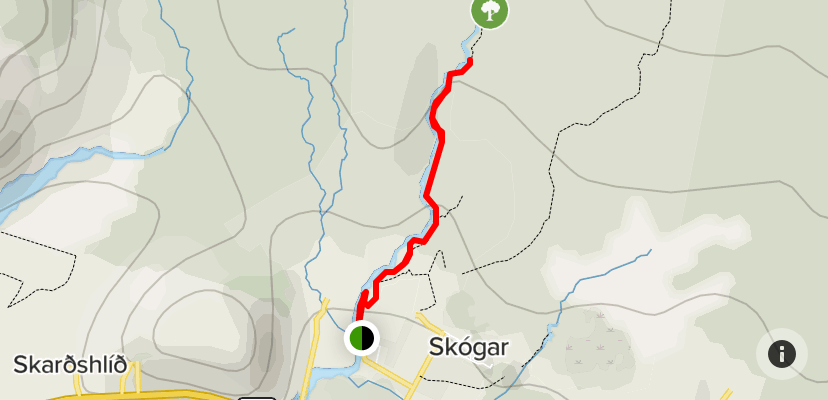 This hiking trail is the popular one in all of Iceland due to its magnificent views of waterfalls and surrounding Mountains. The trail is 6.8 km long and it's only suitable for Medium and Advanced Hikers. There are many other popular activities you can participate in and popular attractions nearby for you to visit along this trail. The trail features an 82 ft waterfall that drops from the ancient cliffs nearby the ocean. These popular waterfalls are also shown in many movies such as Thor, Walter Mitty, etc. The trail also leads you to the top of the canyon from where the waterfall drops
Glymur Waterfall Hiking Trail
Glymur Waterfall Hiking Trail is located near Pyrill in Western Iceland. The hiking trail loops around a waterfall known as Glymur Waterfall. This waterfall is the secondary-highest waterfall in Iceland. The hiking trail that directs to the falls crosses through the shallows at the top of the waterfall offering stunning views of the water cascading from above. The trail is 6.9 km long, and it is best suited for Hikers with Medium and Advanced skills. The trail also features a small river crossing which is supported by a rope. Glymur hiking trail is the ideal place to encounter nature.
Reyjkadalur Hot Spring Thermal River Hiking Trail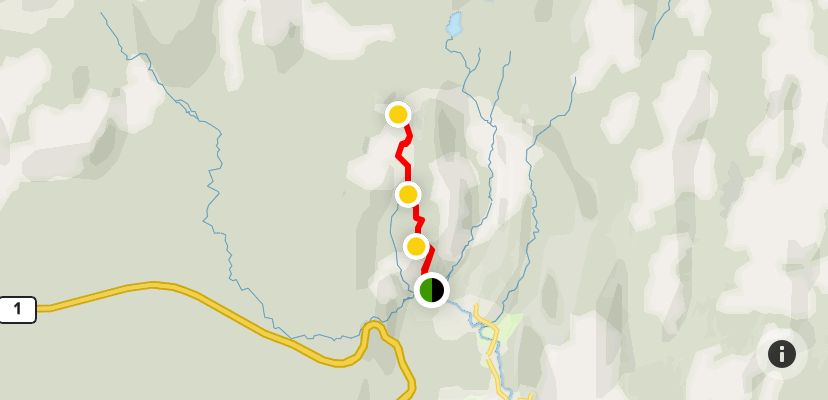 This famous hiking trail is 40 mins away from the capital of Iceland. The trail is the ideal pathway to reach the famed Reyjkadalur Hot Springs. The is in Reyjkadalur valley near Hveragerdi, in Southern Iceland. The trail offers various activities for you to participate in. The trail is 8km long and is ideal for Medium and Advanced Hikers. And it is used mostly from March to September. The trail offers alluring views of the valley below and the surrounding mountain peaks.
Fjadrargljufur Canyon Hiking Trail
As its name suggests the trail offers scenic views of the Fjadrargljufur Canyon and its surroundings. The trail is 3.2 km long and it is located near Skaftahreppur, in southern Iceland. It features a stunning waterfall and River Fjadra which settles through the Canyon below. The trail is considered to be an easy one and it is suitable for hikers with all levels of skills. This trail is frequented by tourists for Hiking, Walking, and Nature Trips. The trail runs along the top of the Canyon offers beautiful viewpoints.
Seljalandsfoss – Gljufrafoss Waterfalls Hiking Trail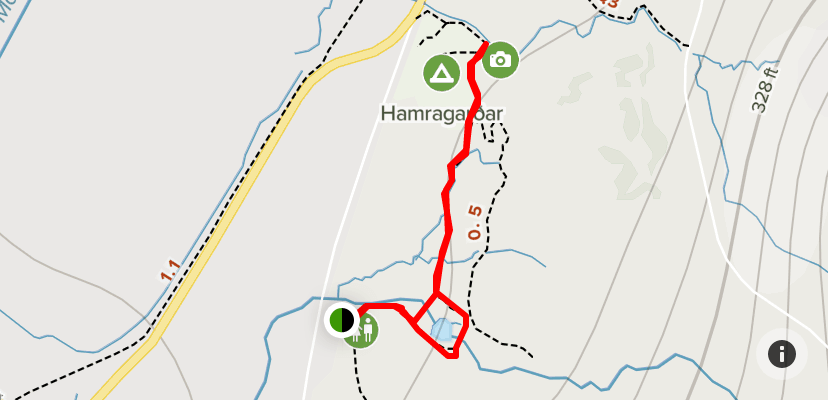 Seljalandsfoss hiking trail is near Porsmerkurvegur in southern Iceland. This trail features one of the natural wonders of Iceland known as Glujfrasfoss Waterfalls. It is one of the most powerful waterfalls in Iceland, and it falls from a height of 197 ft. The hiking trail leads to these falls and is frequented by tourists from all over the world. The trail is 1.9 km long and is suitable for hikers with all levels of hiking skills. The trail is near the famous Route 1 and so it is highly accessible. Pets are also allowed into the trail but must be kept on a leash.
Being a popular destination for tourists from all over the world. Nearby Iceland Hot Springs, there are many popular hotels with various types of features and amenities.
Popular Hotels Nearby Iceland Hot Springs
The Retreat at Blue Lagoon Iceland
One of the top-rated hotels in all of Iceland with high rankings across multiple platforms, and it is located near Nordurljosavegi in Grindavik. This modern architecture hotel is designed by keeping in mind the comfort, serenity, and safety of the customer. The hotel consists of Floor-to-Ceiling windows offering surreal views of the Volcanic Mountains in the distance and the lush green valley below. Blue Lagoon offers two types of rooms for customers such as Suites and Non-smoking rooms. The Retreat at Blue Lagoon offers several amenities such as a large swimming pool, Meeting Rooms, own Private Golf Courses, Fitness centers with Workout rooms, Airport Transportation, Free Breakfast, and High-Speed Internet. There is a designated parking lot for all the customers. The Rooms here in Retreat have various features like Air-conditioning, Private Balcony, Bathrobes, Minibar, Walk-in shower, room service, and Housekeeping.
Reykjavik Residence Hotel
This Hotel is ranked #1 across all the hotels in Capital Reykjavik of Iceland. This is a brand-new hotel located in downtown Reykjavik. The popular hotel offers two types of rooms as Non-smoking and suites with various luxury feature like Sound-proof rooms, Safe, Seating area, Iron, Seating Area, Coffee/Tea makers, and Flat-screen TV. It also has paid-public parking nearby for all the customers. The famed hotel has several amenities such as Free High-Speed Internet, Free Breakfast, Laundry service, 24-hour front desk service, Laundry service, and Baggage Storage. Smoking is strictly prohibited in this Hotel. Moreover, the hotel has independent apartments, that are perfect for a solo traveler, And luxury suites with various amenities for Luxury Travelers.
Flokalundur Hotel
This popular hotel is close to Hellalaug Hot Springs in Patreksfjorour, Iceland. Flokalundur Hotel has high ratings for its Cleanliness, service, Value across multiple platforms. It offers two types of rooms as Non-smoking rooms and Family rooms with several essential features like Seating Area, Bath Shower, Hair Dryer, and Complimentary Toiletries. The Hotel has various amenities such as Free high-speed Internet access, Wi-Fi, Hot-Tub, Restaurant, Breakfast Buffet, Bar, and a Lounge. Smoking is strictly prohibited in this Hotel. It offers free parking space for all Customers. The hotel is 5 mins away from Brjansloekur ferry terminal in Westfjords District.
Hotel Husafell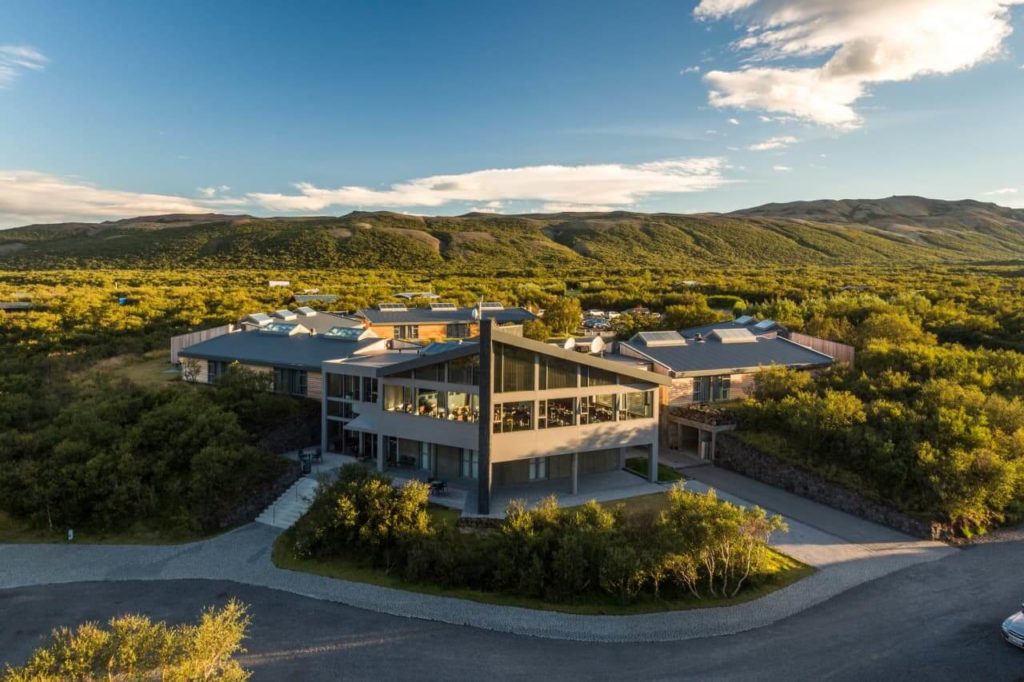 This popular hotel is located 40 miles away from the Hveravellirr Hot Springs in Southern Iceland. Hotel Husafell is located in the Town of Husafell offers various amenities for customers such as Geothermal Swimming Pool, own Private Golf Course, Children's playground and activities, Rented Bicycles, Free Breakfast, and High-Speed Internet Access. The property offers free parking space for all the customers. Husafell offers two types of rooms as Non-smoking rooms and Luxury Suites. The rooms have several features such as interconnected rooms, Safe, Telephone, Coffee/Tea Maker, Rooms Service, Hair Dryer, Walk-in Shower, and a Flat-Screen TV.
Farm House Lodge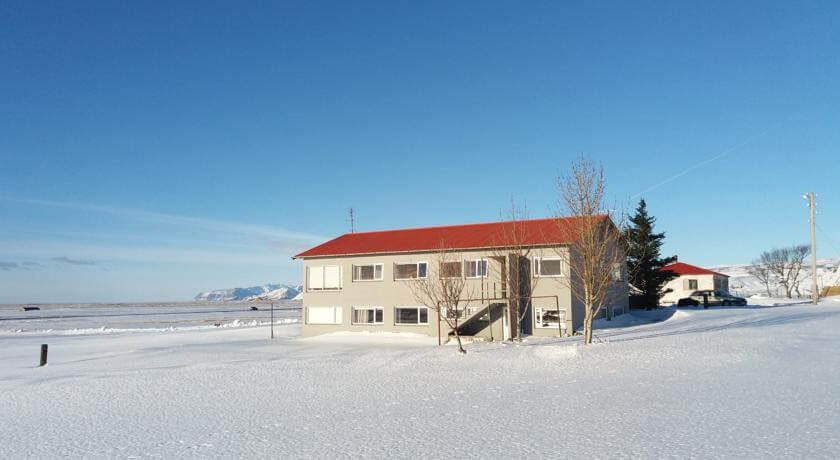 Farmhouse Lodge is located in Skeidfloet which is 38.6 miles from the Landmannalaugar Hot Springs. This Hotel has high ratings on multiple platforms due to its Cleanliness, Service, and Value. The Lodge offers two types of rooms as Non-smoking rooms, and Family rooms with several features like Flatscreen TV, Alarm Clock, Heater, and Room service. Moreover, the Farm House Lodge has various essential amenities such as Free Breakfast and High-Speed Internet Access, Books, DVDs and Music for Children, and Outdoor furniture. Smoking is prohibited in this hotel. The hotel is located closer to various Hiking Trails nearby. Free parking space for all the Customers.
Laugerfell Accommodations
Laugerfell Lodge is located nearby the Laugavallalaug Hot Springs in the Icelandic Highlands. The hotel has better ratings across multiple platforms due to its Cleanliness, Location, Service, and Value. The hotel offers scenic views of the Mountains and the valleys in the Highlands of Iceland. It has two types of rooms as Non-Smoking and Family Rooms. Moreover, the property has several features like Free Street Parking, Free High-Speed Internet Access, Own Restaurant, Hot Tub, and Laundry Services. Smoking is strictly prohibited in this hotel. They are two springs located nearby this hotel and features several popular hiking trails.
Hotel Budir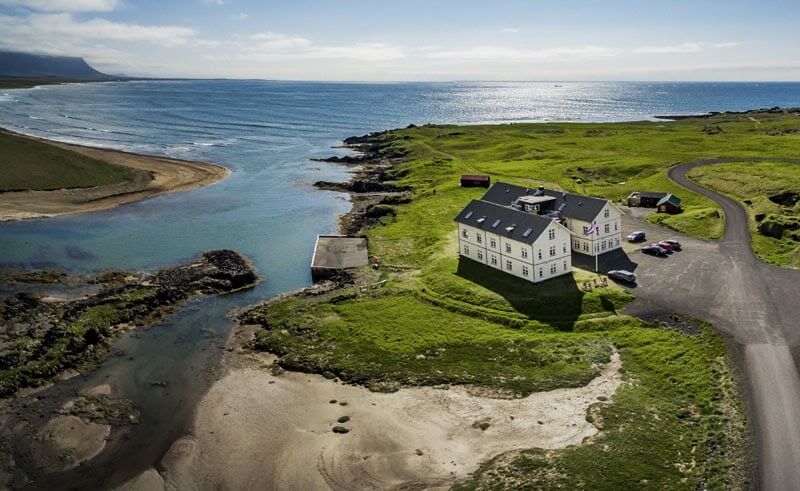 This hotel is popular among tourists visiting Western Iceland and has top ratings across multiple websites due to its Location, Cleanliness, and Service. The Hotel is located in Budavegur Snoefellsnes Peninsula offering Scenic views of the Ocean. The Hotel offers five types of rooms as Ocean view rooms, Bridal suites, Non-smoking rooms, Family rooms, and Luxury Suites. These rooms feature Allergy-free rooms, a Safe, Telephone, Alarm Clock, Flatscreen TV, Seating Area, Hair Dryer, and housekeeping services. The property also has various essential amenities like Free Parking Space, Breakfast, and High-Speed Internet Access (Wi-Fi), Private Beach, Banquet and Meeting rooms, Books, DVDs, and Music for Children. There are many hiking trails nearby Hotel Budir.
Hotel Laxa
This is one of the popular hotels located nearby Lake Myvatn in Iceland. It has top ratings across multiple platforms for its location, cleanliness, service, and value. Two types of rooms are offered by this hotel as Non-smoking rooms and Family rooms. These rooms have various luxury features like Black-out Curtain, Sound-proof rooms, Desk, Seating area, Telephone, Coffee/Tea Maker, flat-screen TV, Bath/Shower. This property also offers various amenities such as Meeting Rooms, Baggage Storage, banquet rooms, Bicycle Rental, Free High-Speed Internet Access, Complimentary Breakfast, and Parking spaces. This hotel has many popular attractions close and various hiking trails leading to them.
Global warming all around the world has serious repercussions for the Lone island located in the middle of the Atlantic Ocean. The natural wonders in the vast Iceland wilderness are facing various challenges due to rising temperatures and water levels.
We believe, the information about the hotels which are nearby the Iceland Hot Springs will help when you go there for your holiday.
Effects of Climate Change On Iceland
Island Rising
Due to its location on the Mid-Atlantic Ridge, the island is being lifted at a rapid pace of 1.4 meters per year. This is caused due to various reasons such as Rising temperatures in the arctic circle, Rising sea levels due to melted glaciers,
Rising air pollution, and many more. This factor causes the temperature on the island nation to rise at faster rates which in turn causes the melting of glaciers.
Multiple Snow Storms
The island nation is encountering many snowstorms every year. Snowstorms in this region might be a common occurrence, but the increasing number of storms are battering the economy of Iceland. The Icelandic people are struggling to survive in these harsh winter storms and the number of tourists visiting these islands is fewer. The transport of goods and necessary items is becoming difficult due to the Thickly blanketed roads.
Increasing Number of Earthquakes
This is another natural calamity that is occurring in Iceland frequently resulting in devastating effects to the people living there. The unstable ridge that Iceland is sitting on is causing continuous readjustments of tectonic plates due to rising sea levels which in turn is resulting in earthquakes with disastrous impacts. The Powerful earthquakes are destroying the cities, towns, glaciers and often causing Volcanoes to burst adding to the impact.
Temperatures
It is another important factor that is caused directly by Global Warming. The temperatures in Iceland are rising at alarming rates. This causes rapid melting of glaciers which causes flash floods in the rivers and also has extreme effects on the surroundings and its Flora and Fauna. The rising temperatures are also causing the famed hot springs to submerge or causing the inconsistent rise in water temperatures making them unusable.
The Sinking of the South-west Peninsula
Global warming is also causing the rapid sinking of the South-West Peninsula of Iceland. The earthquakes and the movements of the Mid-Atlantic ridge have reduced the volcanic activity in this peninsula which in turn is leading to its sinking. Many people who inhabit this peninsula have disastrous consequences due to the destruction of the surrounding wilderness and the animals depending on it. This factor also caused the sinking of a natural glacier located on the Peninsula. The glacier is rapidly melting due to inconsistent or high temperatures of the surrounding sea. Which in turn is destroying the local reefs and their fish population.
Melting Permafrost
The Permafrost located across the vast wilderness of Iceland is also increasingly melting which in turn has effects on the Icelandic Mountains and the surrounding environment. The permafrost located in the mountains melts at higher rates which causes devastating landslides, Snow slides, and often sometimes causes Flash Floods. The permafrost on the valleys and grasslands are disappearing at a rapid rate making the surface of the sands muddy and slippery. This is further affecting various animals like Polar Bears, Brown Bears, Fox, Wolves, Moose, elk, etc., and their natural habitat causing their extinction.
Global Warming affects all of us regardless of wherever we are from. Our overconsumption of resources for centuries has resulted in disastrous consequences for all inhabitants of the world. Some scientists believe we are facing an extinction event that has already started right now. While some believe we still have a chance to stop Global Warming from causing the extinction of all life on Earth.
These are some tips you can follow to slow down Global warming or effectively putting an end to it.
Essential Tips to Follow to Stop Global Warming While Visiting Iceland Hot Springs
Avoid Driving Combustion Engine Vehicles
It is highly suggested to stop driving cars and other types of vehicles while touring in Iceland whenever possible. Switch to electric vehicles or use public transport while traveling to reduce carbon emissions effectively.
Inspect Your Vehicle Tires During Your Trip
If you have borrowed a vehicle in Iceland to travel across the country. Please check the vehicle's tires at regular intervals during the trip and maintain the tires at proper inflation and pressure to increase the mileage of the vehicle. This helps reduces the high consumption of propellants, which can help with Global warming.
Don't Leave Trash at Popular Tourist Locations
It is also important to take out all your trash during your trip and make sure it is disposed of into Trash/Dust Bins. Leaving your garbage on trash near the Tourist attractions can damage the surrounding environment. Most of the tourist destinations in Iceland are nature's hidden gems which can be damaged by your trash and garbage.
Reduce the Use of Hot Water
Hot water can be an essential item while traveling across this Winter Paradise. But the heating process of water consumes a high amount of energy which in turn causes Global Warming. It is ideal to reduce the use of hot water when unnecessary or choose the natural hot springs spread across Iceland.
Turn Off Electronics When Not Needed
Higher Consumption of electricity can also cause Global warming. It is best suited to Switch off the different types of electronics you use daily when not needed.
Maintain Your Thermostat at Constant Levels
The thermostat is also an important part of the Households, Hotels, and other accommodations all across Iceland. They help the heaters in your hotel rooms or cabins to heat the environment of the house and reduce the chances of you suffering from Hypothermia in Colder Environments. Maintaining your thermostats in the heater at a constant level in this winter wilderness can help save over-consumption of energy.
Following these tips will surely help you to stop Global Warming when you are visiting Iceland Hot Springs.
Conclusion
Iceland Hot Springs is one of the popular destinations for travelers coming from all over the world. People often love to soak in these steamy pools and enjoy the Northern Lights and the Midnight sun. It is highly recommended to visit this beautiful country and many of its hidden gems. However, it is also important to take some precautions during your trip to make it safer for you and the surrounding environment.
Frequently Asked Questions(FAQ's)
When is the best time to visit the natural hot springs of Iceland?
Summer is the best time to visit the Iceland Hot Springs
Are the Hot springs in Iceland expensive?
NO, most of the hot springs of Iceland are free whereas the commercial hot springs with big swimming pools and spas can be quite expensive.
Is it safe to swim in Iceland hot springs?
Yes, most of the hot springs in Iceland are safe for you to swim in. Nonetheless, there are also hot springs that are prohibited from editing. It is highly suggested to research before visiting the best hot springs in Iceland.
Do the Hot springs of Iceland have Medicinal properties?
Yes, all the natural hot springs in Iceland have medicinal properties like healing infections, stress release, healing injuries, and improving blood flow through the body. However, the commercialized hot springs have fewer medicinal benefits as the water in these pools are filtered.