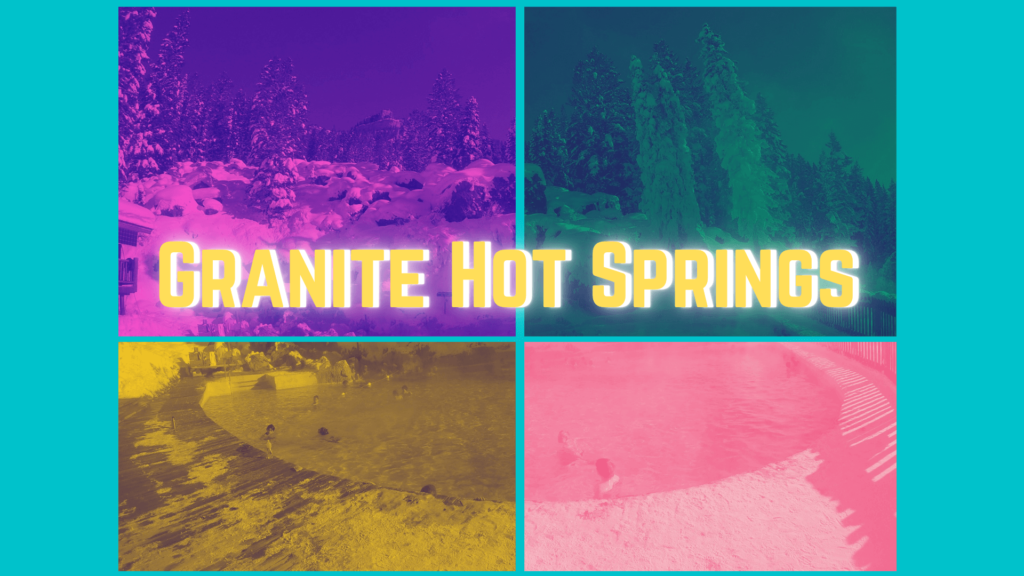 Granite Hot Springs is located in between the Mountain peaks of the Central Gros Ventre range in the State of Wyoming. These Hot Springs are commercially constructed into a big pool and are maintained by private owners. Moreover, these Hot Springs are located at an elevation of 7000 feet from Sea Level, offering spectacular views of the surrounding mountain peaks and the Bridger-Teton National Forest below.
Ever heard about cougar hot springs? If you haven't, you should take a look at this article we wrote, they are just as good as granite hot springs.
Resting in the Equality State
The Granite Hot Springs is one of the most popular tourist attractions in the State of Wyoming. The natural hot springs were built into a big pool in the year 1933 by Civilian Conservation Corps so that the people can enjoy or relax in the Steamy pools of Granite Hot Springs. This commercial pool also offers rooms to change, towels, picnic tables, information kiosks, etc. for affordable rates. However, alcohol is strictly not allowed in the Granite Hot Springs facility and the facility is only open during Summer and Winter.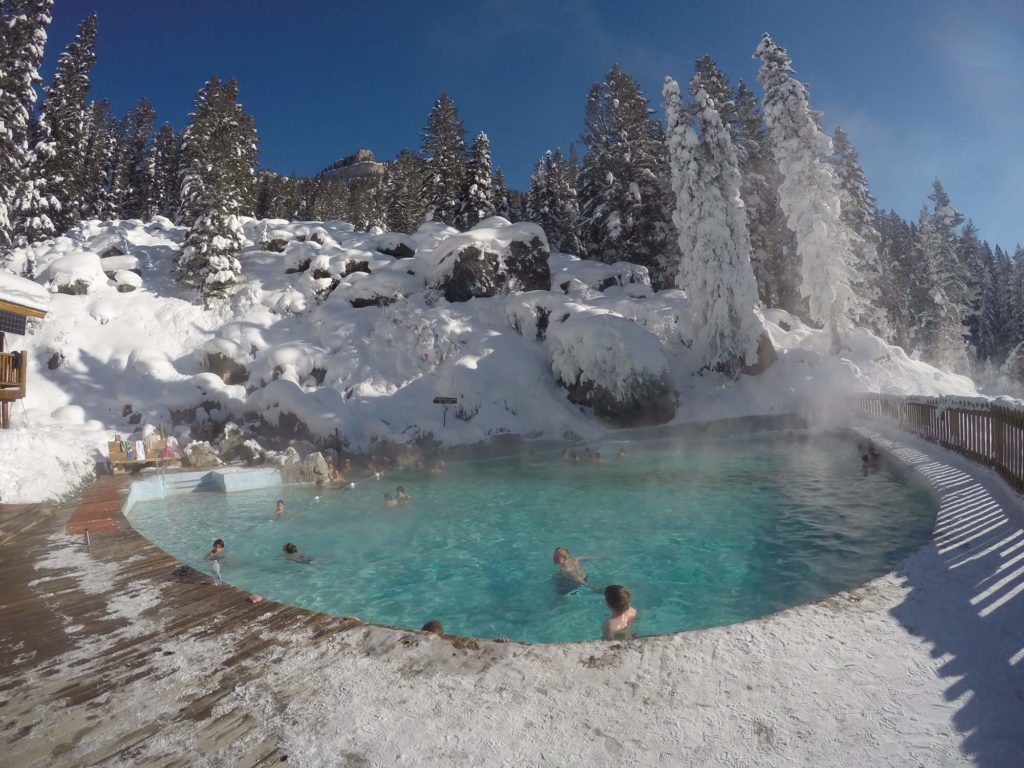 Where is Granite Hot Springs?
These Hot Springs are near the famous Granite Creek Falls of Bridger-Teton National Forest. The pool can be reached from the Town named Jackson within an hour. Due to this, the pools are easily accessible and are frequented by tourists visiting Wyoming. Granite Hot Springs can only be reached by following a hiking trail that takes you from the parking area nearby South Highway 191 towards the Hot Springs. The trail is almost 9.5 km long, and it heads further into Central Gros Ventre Mountain Range. The trail has the highest ratings across various platforms as it offers scenic views of the Lush Green forest and the Alluring Mountains of Central Gros Ventre Range.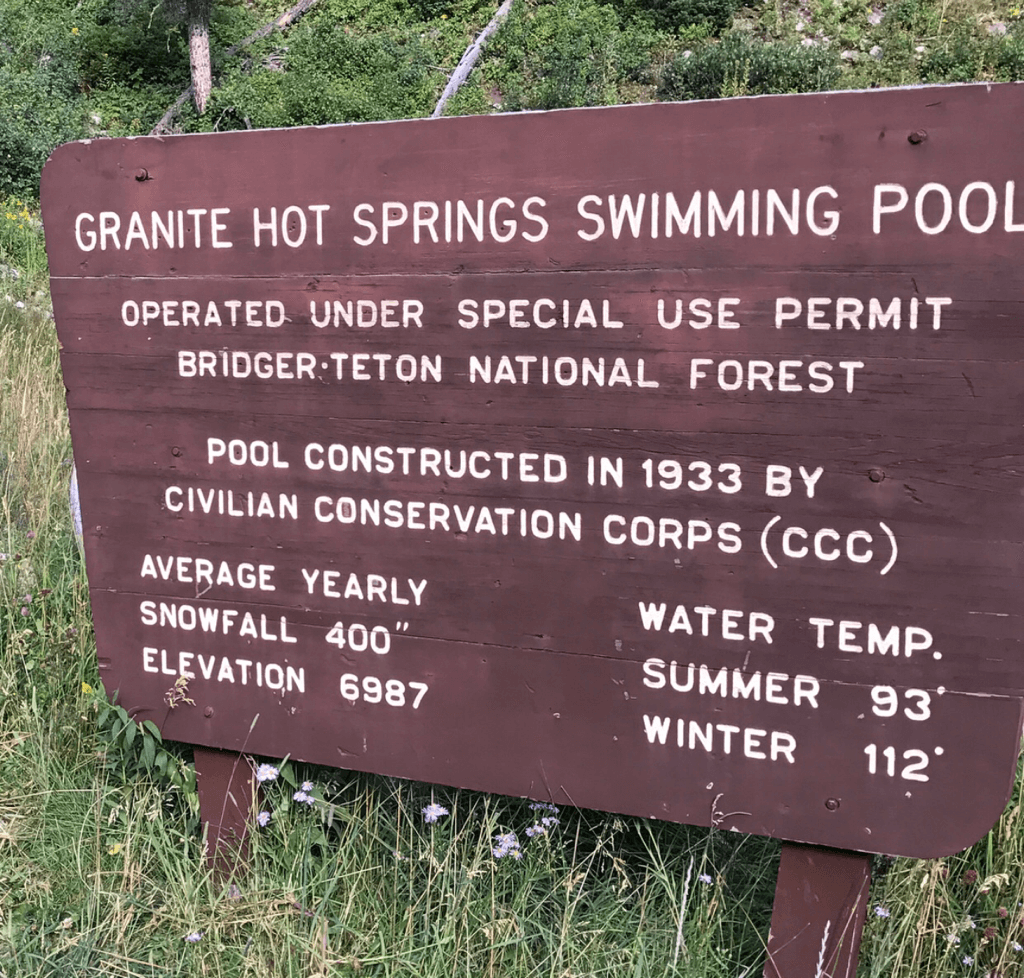 Tourist Attractions Near Granite Hot Springs
Granite Falls Wyoming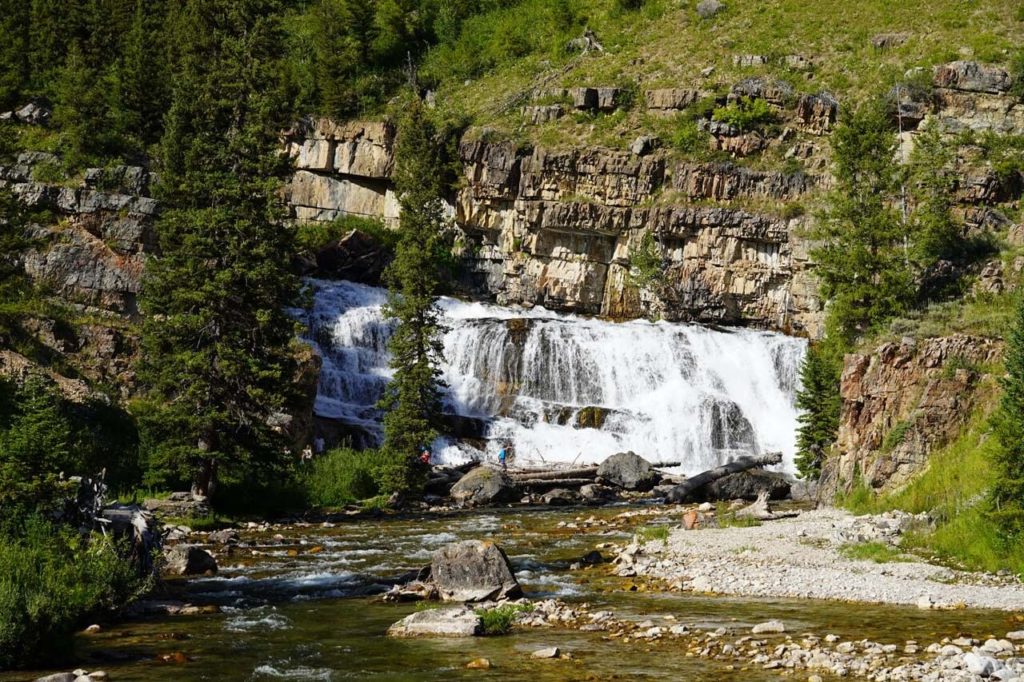 Granite Falls are located in the Granite Creek of the Bridger-Teton National Forest in the State of Wyoming. These waterfalls are called wide block waterfalls and are almost 50 ft tall and 150 ft wide. Apart from the waterfall, there are also natural hot springs nearby. These waterfalls cascade from the Mountains through various streams along a wide area. Due to this, it offers some of the Magnificent views of the waterfall descending through the Mountain range and heading further into the surrounding forest. This place is a prime spot for fishing due to the availability of various species of fish. It is also popular among Hikers and Campers visiting Wyoming.
Yellowstone National Park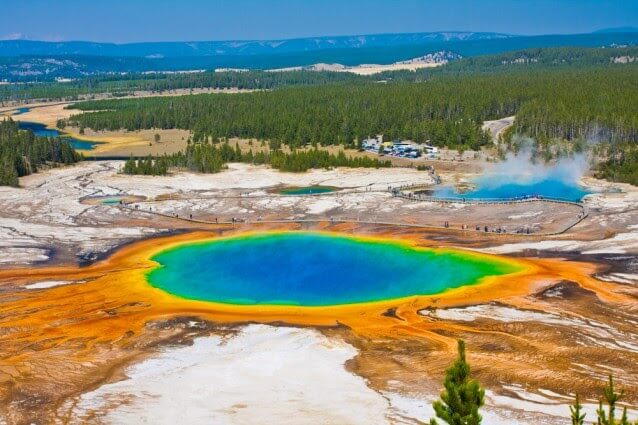 This national park is highly known all around the world for its Geysers, various Famous Hot Springs, and Steam Vents. And due to the insane amount of magma spread over a large area in this park, it is also considered a Super Volcano. Due to this there a lot of popular hot springs, steam vents, and geysers spread all over the park. This park is spread across a large area in the state of Wyoming, and a small area in the states of Idaho and Montana. This famed national park is also well known for its wildlife. Brown Bears, Elks, Antelope, Bison, and Wolves are some of the wild animals that call this park their home.
Jackson Hole
The town is an attraction that a lot of people look forward to in the state of Wyoming. This town consists of three popular Mountain Ski Resorts making it a popular winter Getaway. It is also known for its Famous Elk Antler Entryway in the Town Square. This Elk Antler Entryway is one of the most photographic Entryways, often appearing across various social media platforms in Wyoming. The town square is also known for various famous restaurants and Unique Art Galleries. I highly recommend people to visit this town and use Covered Wagon Rides to ride across the town and most importantly don't miss the performances at Jackson Hole Shootouts during weekdays.
Snake River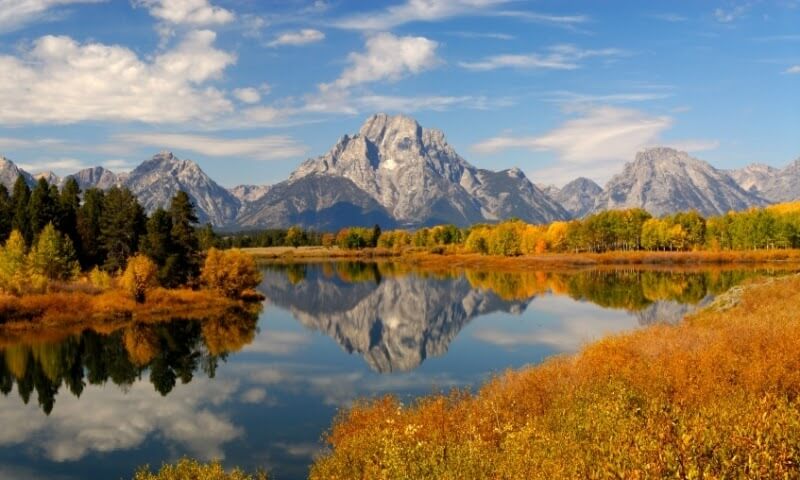 It is a tributary of the Great Columbia River and no small one either. Located in the North-Western part of the United States and true to its name, the river snakes across the states of Wyoming, Idaho, and Oregon and finally enters the Pacific Ocean. Due to its turbulent nature, it is one of the best rivers to go for White Water Rafting. People often visit this river to experience the adventurous sport of white water rafting across the raging river. It is also a popular fishing hotspot and is home to various species of fish such as Steelhead, Largemouth Bass, Smallmouth Bass, Bluegill, Cat Fish, Crappie, Yellow Purch, Sucker, North Pikeminnow, White Fish, and many more.
People visiting the Granite Hot Springs often love trekking through the various hiking trails located nearby to encounter the Gorgeous scenic views of the surrounding forests and mountain range.
Are you wondering what kind of hot springs az has? Well the best Arizona hot spring are right here for the taking, all you have to do is look.
Hiking Trails near Granite Hot Springs
Death Canyon to Patrol Cabin Hiking Trail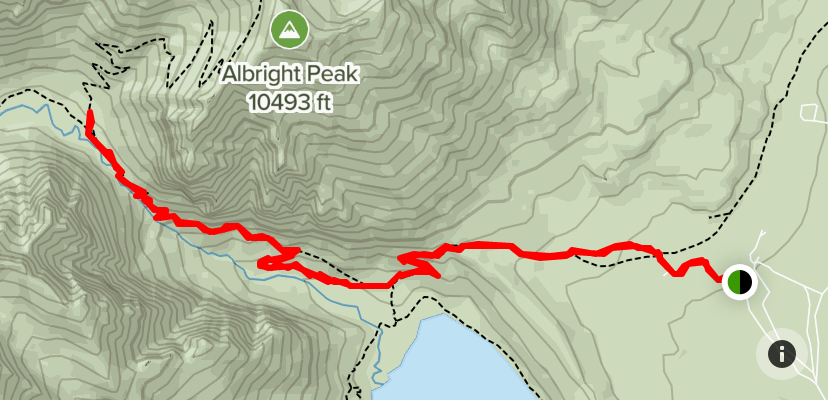 This trail is popular among various hikers due to its awesome views. It is highly rated across various platforms. The trail is 14.6 km long, and it is often suitable for hikers with moderate skills. This path takes you deep into the Grand Teton National Park and is an ideal pathway to witness the Scenic views of Phelps lake nearby and the
Famous Central Gros Ventre Mountains. This trail is a popular getaway from July to September. And it is also used by runners frequently during these months. A small number of fees are charged for Hiking through this trail.
Moose Ponds Trail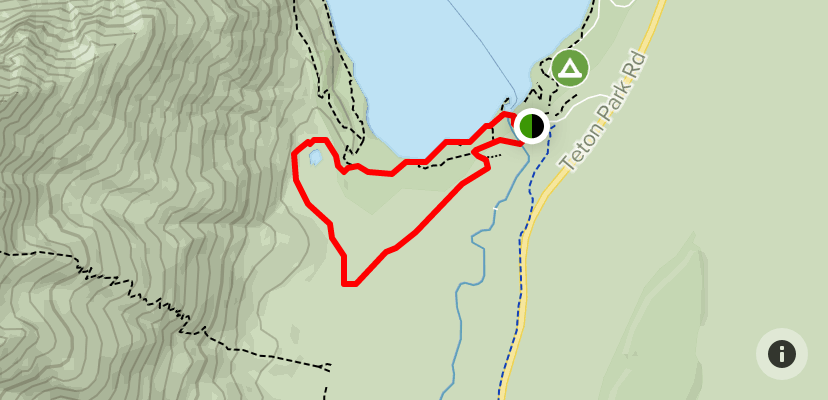 This is another popular loop trail that is famous among the Hikers visiting Jackson Hole in Wyoming. The trail is 5.1 km long, and it is considered to be suitable for all levels of hikers. This trail is best suited for encountering Moose in their Natural Habitat in the Grand-Teton National Park. The trail offers scenic views of Jenny Lake and the Moose Pond in the remote wilderness of Wyoming. This trail heads deeper into the lush green forests through the banks of Lake Jenny and loops back around the Moose pond and heads back towards the Trail-head.
Garnet Canyon Trail to Cleft Falls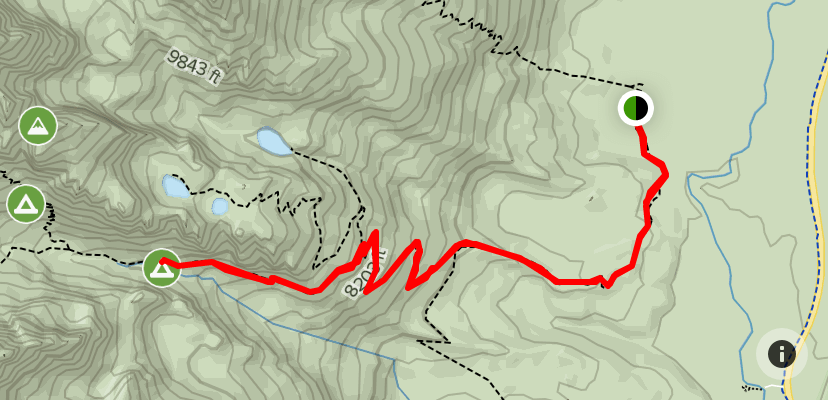 This is considered one of the hardest trails in all of Jackson Hole as it is 12.4 km long, and it often involves climbing rocky terrain at an elevation of 689 m to reach the Cleft waterfalls on the top of the Mountain range. This trail is only suitable for advanced hikers. Due to its rough terrain, this trail is less crowded or empty most of the time, as a result, it is one of the ideal pathways to encounter wildlife in their natural habitats. The trail snakes through the thick green forests, and it further ascends towards the Mountain range, ending at the Cleft Waterfalls.
Goodwin Lake Trail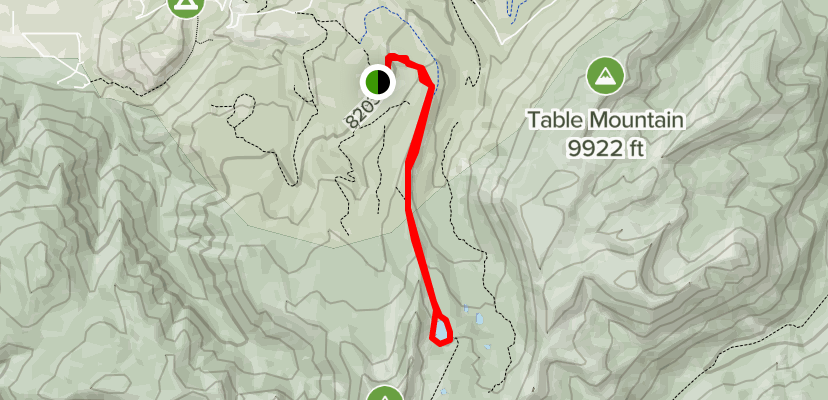 It is another trail in the State of Wyoming that offers alluring views of the Central Gros Ventre Range and the surrounding forests. The trail ventures deeply into the range and thick forest leading the Goodwin lake. This trail is considered to be a moderate one, and it is only suitable for hikers with medium and advanced trekking skills. The lake at the top of the trail is famous for fishing. The trail is almost 10 km long and is frequently visited by the fisherman heading to Goodwin Lake, so there should be some context for your walk if you didn't manage to bring a map.
Snow King Summit via Slow Trail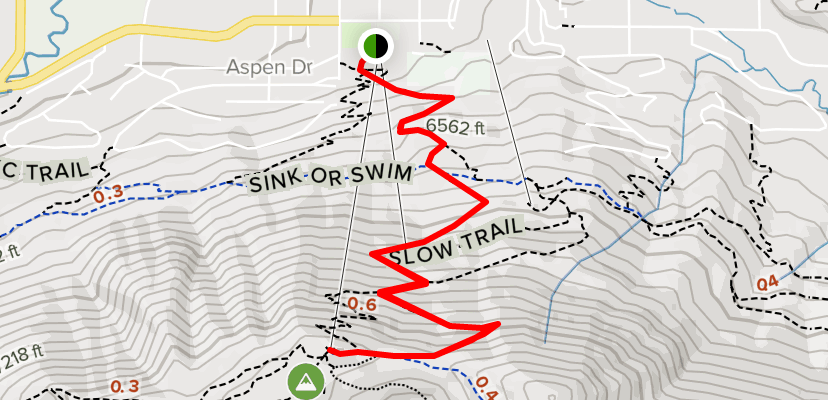 This trail is almost 6.1 km long, and it is considered to be the hardest one and is suitable for only advanced hikers. The trail snakes through Bridger-Teton National Forest, and it is headed towards the Snow King Summit. This trail is one of the best locations to encounter wildlife, and it is only frequented from April to September. Hikers often choose the ski lift while heading down. The summit is located at high altitudes, and it offers the best scenic views of the grasslands, forests, and mountain range.
Camping is also another favorite activity of Tourists in Wyoming. People always choose to camp in this remote wilderness to encounter wildlife or to relax among the Thick lush green forests offering alluring views of the Mountain ranges nearby.
Camping near Granite Hot Springs
Granite Creek Campground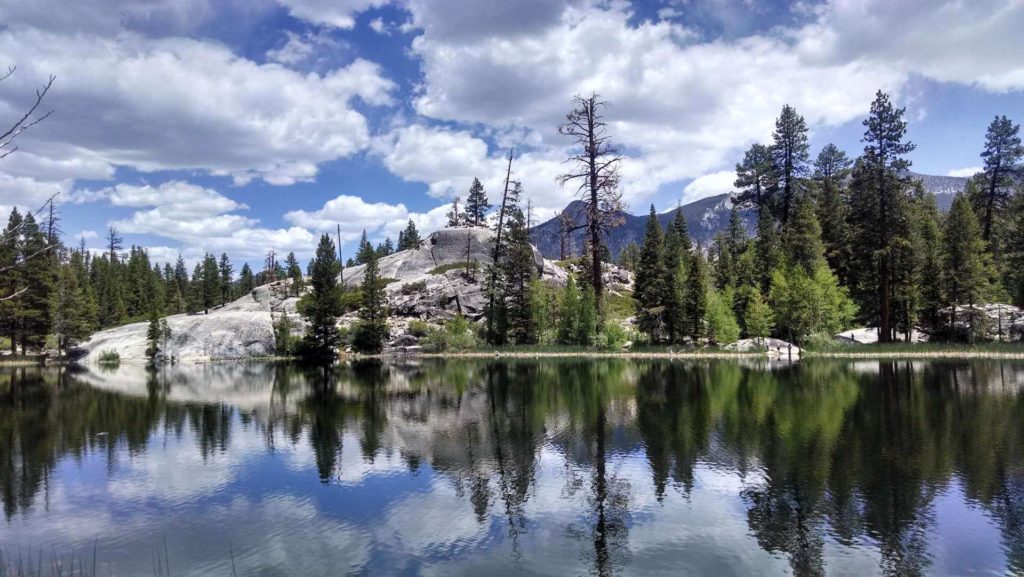 This campground is one of the frequented locations by many tourists who arrive at the Granite Hot Springs. This campground is located at the trailhead leading to the famous Granite Hot Springs. Campsites offer a view like no other, in front of you, you will see the Central Gros Ventre range surrounding the valley. The campsite charges a small amount of fee, and it offers rented camp equipment for use. This site is crowded most of the time due to the popular Granite Hot Springs nearby.
Gros Ventre Campground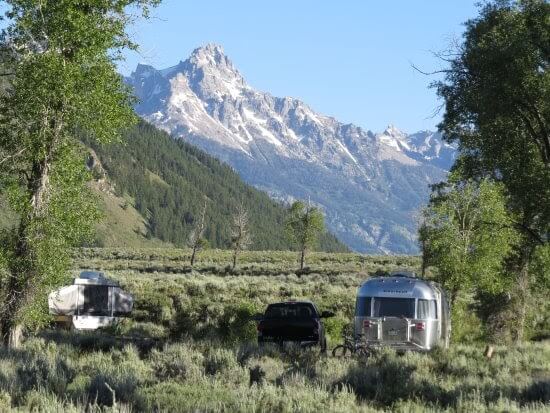 This campground is the ideal location to witness the wildlife. Bison, Mule Deer, and moose often pass through the wilderness near the Campground. This campsite is open 24 hours all year long. In order to use this campsite, a few fees is paid. Camping gear and other essential equipment can be rented here in this campground for affordable rates. This campground offers scenic views of the grasslands and the surrounding Grand Tetons forest.
Curtis Canyon Campground
This campground is a popular campsite located closer to the Town of Jackson Hole. This campground is mostly used by RV's, and it offers some stunning views of the Teton and Refuge Mountain range. The campsite is closer to the largest Elk Refuge in all the United States of America. Due to this, it is often visited by Animals lovers. This campground has a large vehicle park nearby. The campsite has various amenities such as Picnic Tables, renting of essential camp equipment, Availability of Drinking water, Electricity and many more.
As a popular location for camping and hiking in the remote wilderness of Wyoming. It is often visited by numerous tourists every year.
Essential tips for Hiking near Granite Hot Springs
It is important to follow essential tips while hiking through this remote wilderness to ensure your safety and making the trip more enjoyable.
Checking Weather Forecast
You need to check the forecast beforehand while planning a trek in these forests. The weather here is highly unpredictable, and it is often changing within minutes. Please use a top-rated weather application that provides accurate weather predictions and extreme weather alerts. This process ensures that you will not be caught in the middle of extreme weather while trekking through the trails.
Carry a Geographical Map
You need to carry your Geographical Map while trekking through this wilderness. This process ensures your safety and reduces the chances of losing your way. And carrying this map will help you to understand your surroundings in a better way while Trekking through these Hiking Trails.
Carry a Medical-Kit
Everyone needs to carry their medical kits while trekking through this rough terrain. Trekking is an extreme sport and there is often a higher chance of getting injured. Carrying Med-kit allows you to quickly patch up the injuries, reducing the chances of bleeding out and infections. It is also important to learn how to use the med-kit effectively when needed.
Choose Proper Hiking Shoes
It is an important task for all hikers to choose the right shoes that allows them to complete the hike efficiently and safely. It is important to choose a shoe that has better grip and traction on both wet and dry surfaces. Make sure your shoes are flexible which allows free movement of your foot. Choose light-weight shoes, as they help you to overcome obstacles quickly and safely.
Carry Drinking Water
All hikers need to carry plenty of water during the Trekking trip. During Trekking our body spends a lot of energy resulting in excessive sweating. Thus, carrying and drinking plenty of water can reduce the chances of getting exhausted. Which further helps us to maintain a steady pace and complete the Hiking Trail successfully.
Do not wander off the Trail
It is highly recommended to not leave the Trail and to venture into the forest. This might reduce the chances of you getting lost and injured, walking off the trail and finding new beautiful scenery might be a good thing, but the surrounding flora near the tracks are often touch-sensitive and this might result in erosion or plant life loss near the Hiking Trail.
Camping is also a popular activity here in Wyoming as many famous campsites are offering Magnificent views of the forest, Lakes, and Mountain ranges.
These are some essential tips that can make your camping trip safer and more joyful.
Essential tips for Camping near Granite Hot Springs
Do Your Research
It is very useful to research the destination or, in this case, the camping site you are planning to visit. This process will help you to learn about the necessary details of the Campsite such as Features, Cons, etc. Research can also help you find out the various activities you can participate in during this trip. This can also help to find out other tourist attractions nearby the campsites etc.
Checking Weather Forecast
It is always important for you to check the weather beforehand. So that you can reduce the chances of getting caught in extreme weather conditions. The weather here in this mountainous or forest terrain can often change suddenly within minutes. So it is ideal for you to check weather updates and extreme weather forecasts before or during the trip.
Plan Your Meals Beforehand
It is also essential for you to plan your meals before the trip, as most of the campsites do not offer food. It is also important for you to make sure your meals are healthy and full of nutrients. Nutrient-rich food can be a lifesaver, as you need to be healthy and conserve your energy when you are open to the elements. This will help you further increase your stamina, which will help you to discover more tourist attractions nearby without getting exhausted.
Keep Your Camp Surroundings Clean
Keeping your camp surrounding clean will help you to reduce the chances of getting infections etc. Also, this will help the environment near the campsites be safe and clean.
The campsites usually offer Trash bins for your garbage, if not it is highly recommended to take the trash back to your vehicle and help surrounding forests from getting destroyed.
Plan Your Activities
It is highly suggested for you plan your activities before the trip. Camping sometimes can be boring if not planned properly. Planning can help you to spend your time effectively and more enjoyable. It is best suited to carry books and games while during a camping trip.
Choose the right spot
It is often recommended to choose the right spot for setting up your camp. It is ideal to visit beforehand and choose the right spots which have the best views of the surrounding Nature. 
There is a gold fork hot springs camping place to take a look at, Just click on this link to learn more.
Conclusion
I highly recommend visiting Granite Hot Springs while you are traveling through the State of Wyoming. People often come here from long distances to enjoy soaking in these steamy pools with beautiful views of the surrounding forests and the Mountain ranges and in the Equality State, resting can be very enjoyable indeed. There are also many other attractions you can visit nearby and popular activities that you can participate in.
Frequently Asked Questions(FAQ's)
Are there any campsites nearby?
Yes, there is a large-wide campground located at the start of the Hiking Trail known as Granite Creek Campground.
Can we enter inside Granite Hot Springs for Free?
No, It is operated by a private organization, and they charge a small amount of money.
Where can you park your vehicles?
There is a large vehicle park near the Granite Creek Campground. It is suitable for all types of vehicles.
What are amenities offered?
Dressing rooms, Towels, picnic tables, and many more are offered in Granite Hot Springs.