The Galloway Kite Trail was created in 2003 by RSPB Scotland in partnership with Forestry Commission Scotland and Anne Johnstone of Bellymack Hill Farm. The trail was officially launched on 6th October 2003, at an opening ceremony in Mossdale village, by Sarah Boyack, Chairman of the Scottish Parliament's Environment Committee. Set up initially as a community-based wildlife viewing initiative, it is through this on-going partnership approach with local communities and businesses that the Galloway Kite Trail has been able to go from strength to strength.
Initial funding was provided by
Making Tracks
, (a post Foot & Mouth Disease recovery grant scheme administered by Dumfries & Galloway Tourist Board) SNH, RSPB Scotland, Forestry Commission Scotland, Dumfries & Galloway Raptor Study Group and the participating businesses on the trail. This helped get the Kite Trail off the ground, funding interpretation in business outlets, production of a leaflet and building good links between the Trail and local community. The initial project was match-funded by LEADER+, helping to further developments through funding from the European Community.
In April 2007 the
Sulwath Connections Landscape Partnership Project
went live bringing in a new and very welcome grant of over £165,000 through a partnership between The Heritage Lottery Fund, RSPB, Dumfries & Galloway Council and Scottish Natural Heritage. The grant funded: a full time Galloway Kite Trail Community Liaison Officer for three years; the creation of new information points and interpretation in villages around the trail, and; the creation of an audio guide and leaflet.
During 2010 - 2012, the trail and other RSPB work in this region received funding through the
Connecting Communities With Wildlife project
. This project was part financed by the Scottish Government and the European Community, Dumfries and Galloway LEADER 2007 - 2013 Programme, SNH and RSPB Scotland. This funded the community liaision post for a further two years and also the production of a wildlife viewing manual -
Places to enjoy Wildlife in Dumfries & Galloway
, promoting places wildlife attractions accross the region to visitors coming to the kite trail. A feasibility study was also undertaken to investigate the possibility of filming and showing live footage of a red kite nest in the Galloway area. We will keep readers posted on further developments.
The initial businesses associated with the trail included three hotels, two public houses, one Guesthouse, one Holiday Park and one Holiday Cottage business. Since 2003, the popularity of the trail has resulted in over 30 businesses supporting the project, ranging from tea rooms and village shops to an art gallery, visitor centres and an outdoor activity centre.
The trail is an anticlockwise route of some twenty four miles around Loch Ken (winter) with an additional fourteen miles of forest drive (summer only). Being out on a bike is a great way to spot red kites and for the energetic, it's a reasonably level route, with cycle racks provided at Boat O Rhone, New Galloway and Mossdale. The west side of Loch Ken is particularly quiet and attractive for cyclists.
There are six outdoor viewpoints with interpretation boards; nine walks,(including a short path to feeding station); four hides; one
feeding station
; one visitor centre with CCTV screen, (summer only); eleven unique information boards in business premises around Loch Ken and Castle Douglas; road signs and two red kite sculptures, (at Parton and Mossdale). Four information shelters have been built around the trail and at Castle Douglas to provide information on the Trail, red kites and other aspects about the local area
The trail was featured (by Derwent May) in Times Travel Supplement, BBC TV News, BBC Landward, BBC Nature's Calendar, Border TV (on numerous occasions), Scottish Bird News, Birdwatching Magazine, Irish Times, Scots magazine, Countryman magazine, BBC Radio Scotland Out of Doors (on various dates), various other TV and radio programmes and other publications.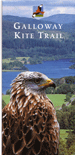 Download an Adobe PDF version of the original Galloway Kite Trail Guide here.