Deep Creek Hot Springs is located in the famed Mojave Desert on the foothills of San Bernardino Mountain Ranges, California. These hot springs are undeveloped geothermal pools located in a gorge between two massive rock structures located on the Deep Creek of the Majestic Mojave River. These undeveloped pools are fed by a small waterfall cascading from the top of rock structures surrounding the pools.
The Deep Creek Hot Springs in Mojave Desert
The Deep Creek Hot Springs was historically discovered by Native American Indian Tribes thousands of years ago. The Tribes considered these hot springs sacred, and they used these natural hot springs for warmth, cleaning, and healing. The site was later rediscovered in 1907, and it has been managed by the San Bernardino National Forest ever since. After its discovery, the hot springs gained popularity across the country attracting thousands of tourists every year.
Best Time to Visit Deep Creek Hot Springs
Deep Creek Hot springs are ideal to visit all year long. But during summer, the temperatures soar high. The surrounding rocky structures and no shade near the steamy pools can be dangerous as it can cause dehydration. In winter, the temperatures drop low. The surrounding forests and the roads leading to the trailheads can be thickly blanketed with snow. This leads to the road being unpassable for vehicles. However, there are sleds and snowboarding/skiing trails that can help you reach the site. But it is strictly advised not to stay out here during the night as the temperatures can reach negative here. We recommend you to visit this site during fall and spring. 
Deep Creek Hot Springs Directions
Deep Creek Hot springs are located at a distance of 13.8 miles from the City of Hesperia. It is in San Bernardino County, California. From Hesperia City, take Hesperia road towards Main Street for 0.6 miles. Continue onto Main Street and head for 4.7 miles. Take a right onto Deep Creek Road and follow the road for 8.5 miles. It will lead you to the Dirt Parking Site where the TrailHeads are located.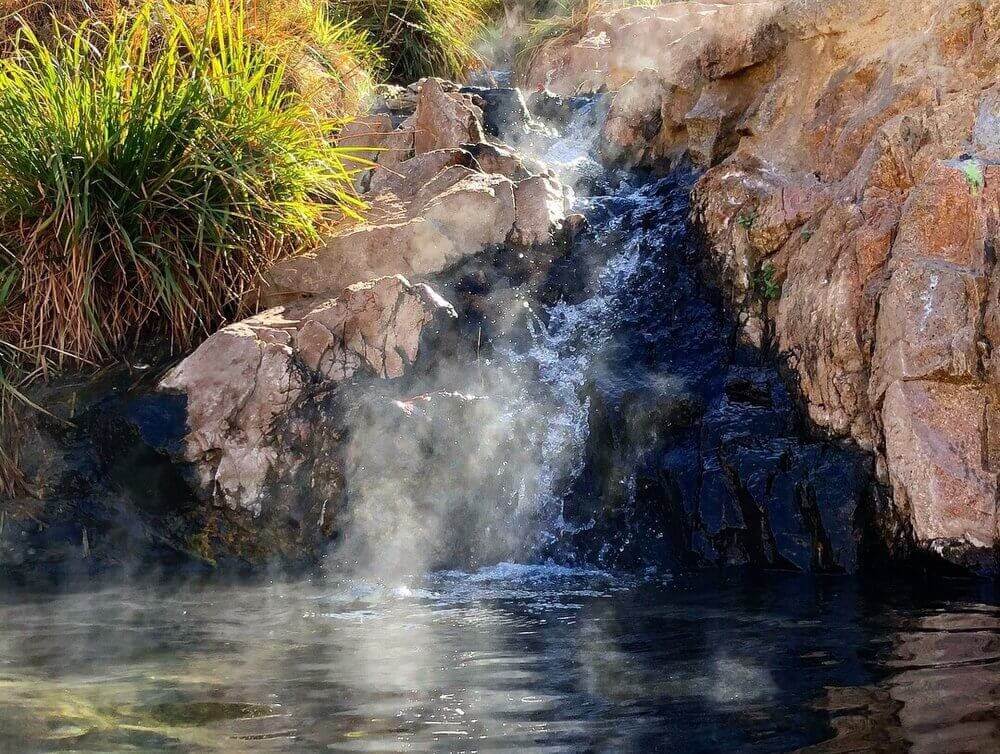 Precautions to Follow While Visiting Deep Creek Hot Springs
Drink Plenty of Water
It is highly advised to drink plenty of water during your deep creek hot springs visit. Because the high temperatures, rocky terrain, and no shade can accelerate sweating in our body which can lead to dehydration. Drinking water can help boost your body water levels back to normal.
Watch Where You Step
It is suggested to be cautious of where you place your foot while trekking through trails. It leads to Hot Springs as the trail is full of slippery granite rocks. There are also loose sands and even surfaces that can cause severe injuries.
Wear Right Hiking Shoes
As I said before the trails leading to hot springs are of rugged terrain and slippery surfaces. So wearing the right shoes with excellent and good traction can make your Hiking Trip easy and safer.
Bring Sun Protection
As the temperatures here can sore pretty high and also the surrounding has no shade, so it is ideal to bring your sun protection like Hats, Sun Glasses, and Sunscreens to avoid tanning and burns.
Keep a Lookout for Rattle Snakes
It is highly suggested to be vigilant while trekking through these trails as the surrounding wilderness is home to poisonous rattlesnakes. These snakes often hide under rocks are shrubs, and if you are aware you can be bitten.
More About Deep Creek Hot Springs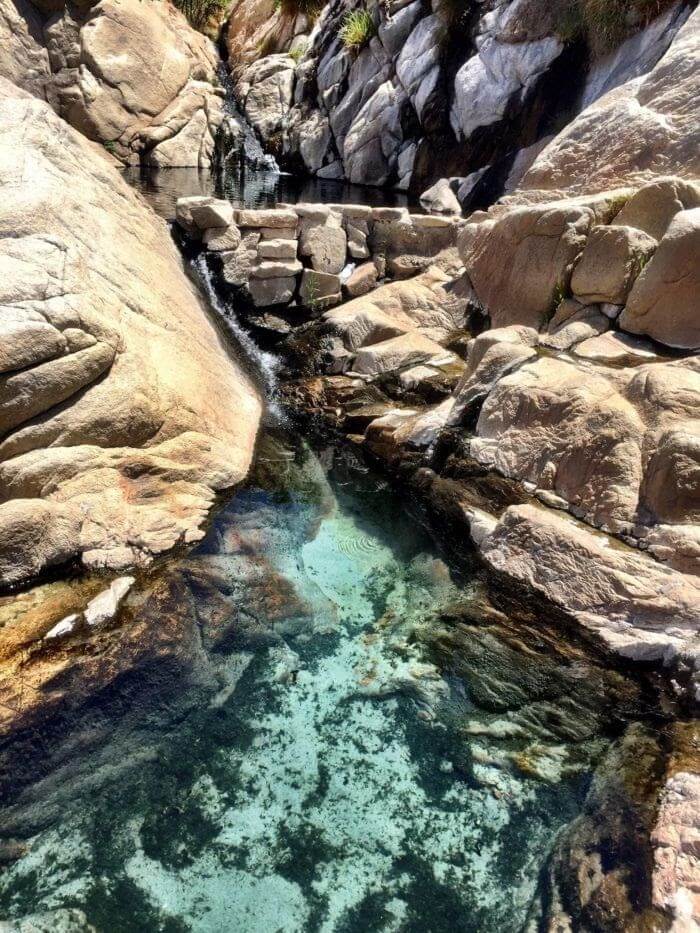 The Deep Creek Hot Springs consists of 7 geothermal pools with muddy bottoms. The Pools in these hot springs vary slightly in temperatures, but all are of similar sizes. The Main Pool by the steam waterfall is of higher temperature. The Hot Springs are maintained by a group of volunteers known as Deep Creek Volunteers. These Hot Springs are only from Sun Rise to Sun Set. And also it is highly advised to not drink the water in these pools as it contains bacteria like Fecal Coliform and Eukaryote which can cause fatal diseases like primary amoebic meningoencephalitis.
Deep Creek Hot Springs Camping
In these Hot springs, clothing is not optional and public nudity is permitted at the end of the trails nearby the Springs. Camping is also not permitted within 1 mile of the Hot springs, but you can set up camps near the parking space or along the Hiking Trail. There are also many popular campgrounds with many features nearby.
Deep Creek Trails
Deep Creek Hot Springs can be accessed only through Hiking Trails whose trailheads are located nearby the Dirt Parking Lot. There are three hiking trails here which are known as Pacific Crest Trail, Broadford Ridge Path, and Freedom Trail. However, the most frequented hiking trail by tourists is Pacific Crest Trail or Deep Creek Trail. This Hiking Trail is 5.8 km long, and it starts from the Bowen Ranch where the Dirt Parking Lot is located.
Tourist Attractions Near Deep Creek Hot springs
Mojave River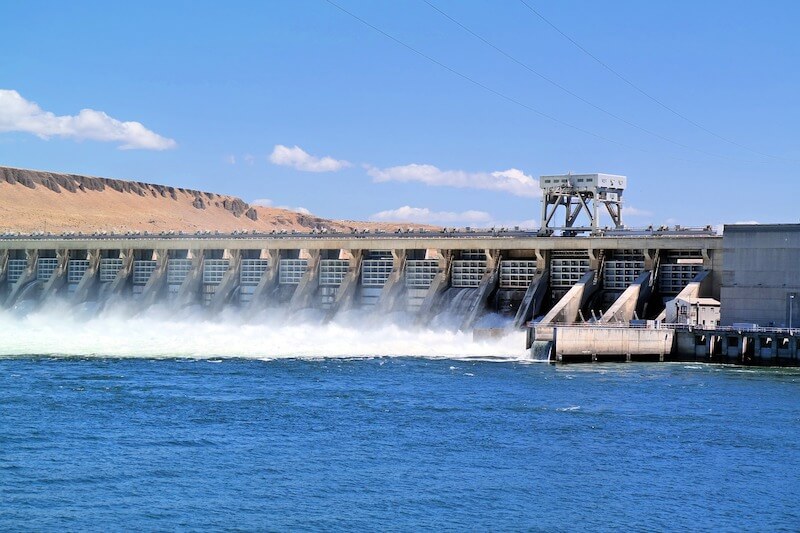 Mojave is the most popular river located nearby the Deep creek hot springs in Southern California. The river is 110 miles long and originates from the foothills of the San Bernardino Mountains. The River was historically discovered by the Vanyume Tribes of Serra Native Americans, who depended on this river for food. Later on March 9, 1776, it was rediscovered by Father Garces who referred to this river as Arroyo de LosMartires (River of the Martyrs). The river was later called Rio de las Animas (spirit river or the river of lost souls) by Spanish forces in 1826.
Later in the year 1826, the first American who visited this river called it as Inconstant River. Now, the river is a popular kayaking hot spot as it offers stunning views of the canyons and the surrounding wilderness. There are many facilities here offering rental kayaking equipment or kayaking tours on this river. Fishing is also popular here, as the river is home to many widely known fish species of California such as Rainbow Trout, Chanel Catfish, Flathead Cat Fish, Brown Trout, Cutthroat Trout, and many more.
Big Bear Lake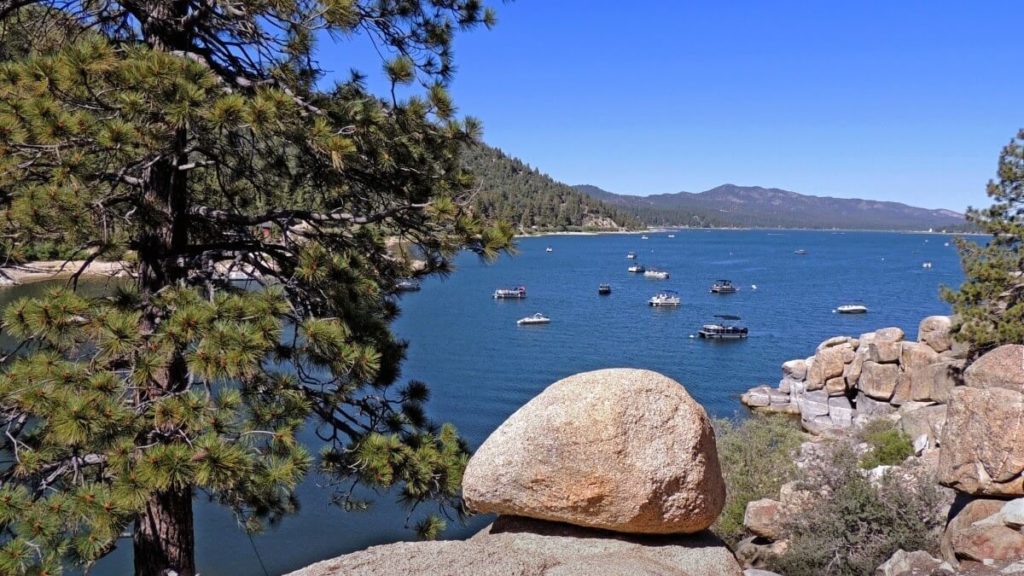 One of the largest man-made lakes in Southern Califonia is located 46.4 miles from the Deep Creek Hot Springs. The Big Bear City is located on the banks of this lake, which is named after it. The Lake is a popular recreational area with many hiking, trails, campground, etc., and it offers alluring views of the surrounding San Bernardino Mountains and the pristine national forest. The camping sites and the Private Cabins located on the banks offer many essential features and amenities along with stunning views of the lake. There are many facilities in the Big Bear City that offer guided scenic boat tours of this majestic lake. Fishing is also popular here, as the lake is a major habitat for various species of fish like Sunfish, Bluegill, Crappie, Catfish, Pumpkin Seed, Rainbow Trout, Blue Catfish, Largemouth Bass, Carp, Smallmouth bass, and many more.
Hesperia Zoo
One of the most popular zoological parks is located in Hesperia City, home to many exotic, rare and wonderful wild animals. The popular zoological park is spread across an area of 10 acres and is a popular getaway for children and many families in Southern California. The Zoo Park offers many interesting tours like Sunset Safari Guided Tours, New Animal Encounters, Picnic with Primate, Walk with Herd, Zoo camp for children, Boo at the Zoo, Drive-Through Holiday Lights, and many more. Due to its popularity, it is often crowded during weekends and holidays. Many popular wild animals that call this Zoological Park their homes are rare White Tigers, Bengal Tigers, Zebras, Giraffes, Alligators, Wild Buffaloes, Raccoons, Mongoose, Kangaroos, Leopards, Vultures, Fox, Wolf, Camel, Hyenas and many more.
San Bernardino National Forest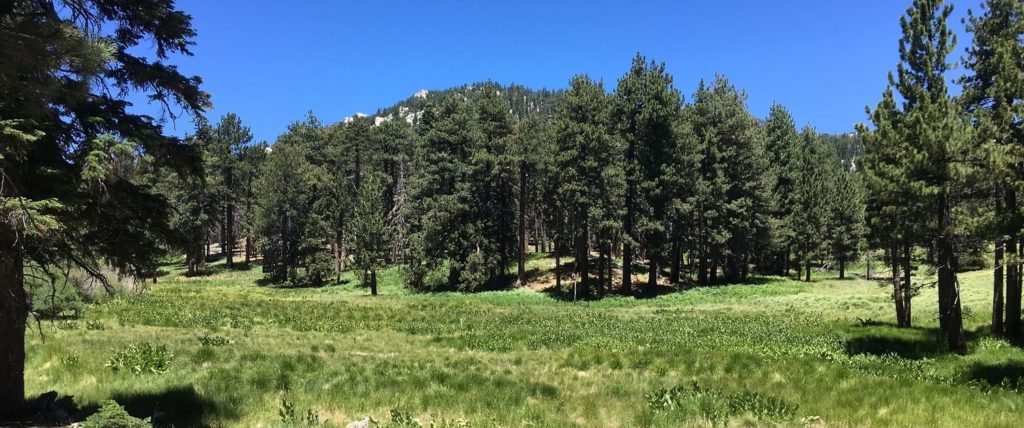 San Bernardino National Forest is spread across an area of 823,826 acres in the State of California. The Forest is home to many mountain ranges like San Bernardino Mountains, Santa Rosa Mountains, Transverse Mountains, and San Jacinto Mountain ranges which are surrounded by Coniferous and Mixed forests. This protected site is an ideal location to explore South California's National Forests and witness the many wild animals that live here in their natural habitat. The forests comprise many wilderness areas, which consist of many Hiking Trails and Campgrounds. Due to this, hiking and camping are popular here. Some of the most popular wild animals of San Bernardino National Forest are San Bernardino Flying Squirrels, Mountain Yellow-legged Frog, Andrew's Marbled Butterfly, Southern Rubber Boa, and many more.
Activities Near Deep Creek Hot Springs
Escape Rooms Adventures
This unique adventure is located in the City of Hesperia in Southern California. The Escape rooms offer unique escape room games which involve solving puzzles, discover clues and perform tasks to go from one room to another. Moreover, this adventure game is limited to only an hour depending on the Facility. These rooms contain various themed rooms full of clues, puzzles, etc. The Impossible Escape is the only Escape room facility located nearby Hesperia City, you can visit during your trip to Deep Creek Hot Springs.
Golfing
Tourists often visiting these natural hot springs in Hesperia love to play some golf in the Popular Hesperia Golf and Country Club. This famous golf club is a classic PGA Tour venue and has been visited by many golf icons. The Club was also showcased in the Web series "Wonderful World of Golf" which was filmed in 1960. The Club was also ranked as the 7th toughest public golf course by California Magazine. If you love golf or willing to learn golf, this club might be the ideal one for you. Playing golf on this classic course is an experience you will never forget.
Off-Road Vehicle Driving
The Deep Creek Hot Springs is surrounded by many popular OHV Trails, offering adrenaline-pumping rides and wonderful views all around. There are different types of OHV Trails here for you to choose from. The OHV Trails help you to sharpen or boast your Off-Road Driving skills. There are many shops and facilities located in Hesperia City and surroundings offering rental Off-Road Vehicles, Guides, and Protective equipment for affordable rates. You can check the maps of various trails here in Southern California by visiting the Official San Bernardino National Forest website.
Haunted House Adventures
Hesperia City located northwest of the Deep Creek Hot Springs is also home to All Saints Lunatic Asylum which is a popular haunted house in the surrounding areas. The facility offers haunted house adventures for all age groups. If you want to experience an Adrenaline Pumping, Heart Rate rising, haunted house experience, this asylum is the one for you. The Asylum themed facility might be a bit scary for children. The facility charges a fee for these haunted house tours. However, it can be quite expensive, but it's totally worth it.
Paraflite Adventures
The City of Hesperia also consists of a Paraflight facility that offers adventurous para flight tours through the surrounding wilderness. These unique flying adventures with a para flite with a connected parachute are ideal for you if you love flying, base jumping, and skydiving. These adventures offer unique experiences of witnessing the surrounding San Bernardino Mountain Ranges, National Forests, and the many hidden natural wonders in it through the sky. The Inland Paraflite facilities provide these para flite tours for given time frames for affordable rates.
Hiking Trails Near Deep Creek Lake Arrowhead
Deep Creek Lake Hiking is also a popular activity here in Southern California. There are many popular Hiking Trails nearby for you to choose from, offering striking views of the many natural wonders of the Forests.
Rainbow Bridge via PCT
This top-rated Hiking Trail is located near the City of Hesperia in the San Bernardino National Forest. The Hiking Trail is 13.4 km long and it offers mesmerizing views of the San Bernardino Mountain Ranges and the surrounding National Forests. It is considered moderate and so it is best suited for Hikers with Medium and Advanced Skills. The popular trail features a majestic river and it is frequented by tourists from April to October for various activities like Hiking, Nature Trips, Walking, Fishing, White Water Rafting, Kayaking, Camping, Bird watching, and Encountering Wildlife.
Will Abell Memorial Trail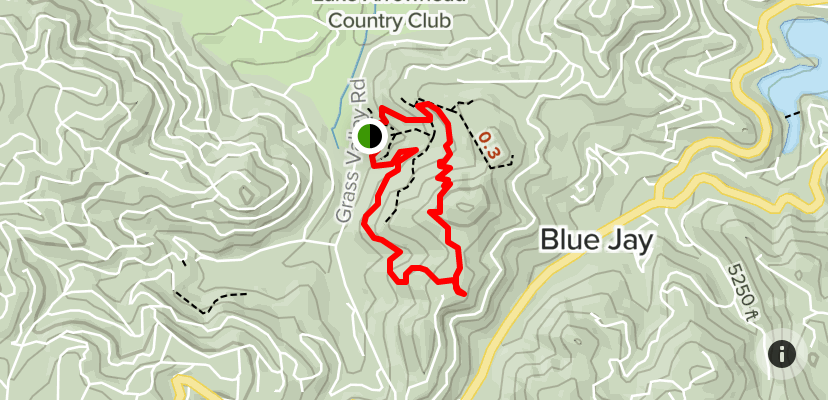 One of the easiest hiking trails is located in the San Bernardino National Forest, which is ideal for Tourists with or without Hiking Skills. The Trail is 3.1 km long and features a great forest setting, offering alluring scenery of the surrounding forest. Tourists visit this trail all year long, and it offers many activities like Hiking, Nature Trips, Bird Watching, Walking, Running, etc. The Trail has an elevation gain of 128 m, and it also offers distant views of the valley where a beautiful blue lake is located, and it is surrounded by the green trees of the San Bernardino National Forest.
Lake Gregory Trail
This Hiking Trail is located near the town of Crestline in the Lake Gregory Regional Park. The Hiking trail is 3.7 km long, and it is open all year long. The Trail is suitable for all tourists, with or without Hiking skills. The Lake Gregory Trail offers many activities for tourists like Hiking, Camping, Fishing, Backpacking, Canoeing, Snowshoeing, Running, Walking, Bird Watching, and Nature Trips. Pets are allowed into this Hiking Trail but must be kept on a leash.
Dogwood Campground Loop
This Hiking Trail is located near the Town of Rimforest, in the San Bernardino National Forest. The 6.1 km long hiking trail is best suited for Hikers with Medium and Advanced Skills. This Loop Trail starts from the Dogwood Campgrounds, and it passes through the dense or thick forests, offering alluring views of the greenery surrounding you. The Hiking Trail is open all year long. Tourists love to take part in many activities like Camping, Hiking, Walking, Running, Nature Trips, Bird Watching, Backpacking, and Encountering wildlife.
Strawberry Peak From Twin Peaks Highway 189
This Hiking Trail features two mountain summits offering gorgeous views of the valley below. This hiking trail is 1.6 km long, but it is considered hard because of the Rugged surfaces, rough terrains, steep climbs, and many more. The trail is best suited for Hikers with Advanced skills. The trail also features a lake. The Trail is frequented by tourists from March to December for various activities like Mountain Views, Hiking, Fishing, Camping, Backpacking, Nature Trips, and Bird Watching.
Necessary Items to Carry While Hiking
It is very important to carry essential items while hiking through the wilderness to ensure your safety and make your hiking trip more joyful.
Carry a Map
It is important to carry a map of the hiking trail that you are plan to visit. Keep the map, as it will help to understand the hiking trail better and make the experience more immersed with the nature all around. It also helps to not lose track in the wilderness.
Carry Plenty of Water
It is ideal to carry plenty of water while hiking through these trails in Southern California. As the temperatures here can soar high, the hiking exercises will result in extreme sweating, which can lead to Dehydration. Carrying plenty of water will help you to overcome this danger.
Carry Food or Snacks
It is important to carry food or snacks while trekking through these hiking trails. Continuous walking will reduce energy levels rapidly which can be dangerous in this wilderness. Food or snacks will help your body boost energy levels giving you the strength to complete these trails.
Carry a Med Kit
A Medical Kit is a very important item every Hiker must have while trekking through these trails. Trekking is a dangerous sport especially in these rugged terrains of Southern California. There is a high chance of you getting hurt. A carry medkit will help you patch up your injuries effectively which will stop your bleeding which can be dangerous here.
Carry a Backpack
It is ideal to carry a lightweight backpack to store all your essentials like Food or Snacks, Water, Knife, GPS, Map, Compass, Extra Clothing, Tent Gear(if you are planning to camp along the trail), Swiss Knife, Lighter, torch, Cooking Equipment, etc., safely in your backpack.
Conclusion
It is highly recommended to visit these awesome steamy natural hot springs. The waterfall here in Deep Creek of San Bernardino County of California is wonderful too. The popular hot springs have multiple pools for you to soak and enjoy even on crowded weekdays and holidays. The Deep Creek Hot Springs are located closer to the State Highway. In the City of  Hesperia, with easy hiking trails leading to the Hot springs making it much more accessible. Also, there are many popular attractions nearby for you to visit which offer various activities for you to participate in. There are many hiking trails and Campgrounds here for you to enjoy and explore the wilderness all around and to discover its many hidden natural wonders.
Frequently Asked Questions(FAQs)
Is clothing Optional here in Deep Creek Hot Springs?
Yes, clothing is optional here in these streamy natural hot springs. However, nudity is strictly banned along with the hiking trail or the parking lot.
Is there a parking space here?
Yes, there is a large dirt parking lot here where you can park vehicles of all sizes easily. But a fee must be paid to park here in this lot.
Is it safe to swim or dive in these hot springs?
No, it is strictly advised not to swim or seek in these hot springs as these streamy pools consist of dangerous bacteria which can enter through your nose and cause you a rare and fatal disease.
Can you camp near the hot springs?
Yes, you can camp along the hiking trails near the hot springs. But camping is prohibited within a mile around the hot springs as the naturally heated pools can get damaged or the species living nearby can get endangered.